"JUST DO IT!" 10 TIPS TO STEP OUT OF YOUR COMFORT ZONE
Listen to this blog on the below media player or your favourite podcast app. Subscribe to The Goodness Blogcast to help you make better choices for a healthier, happer life, filled with MONTAGU GOODNESS!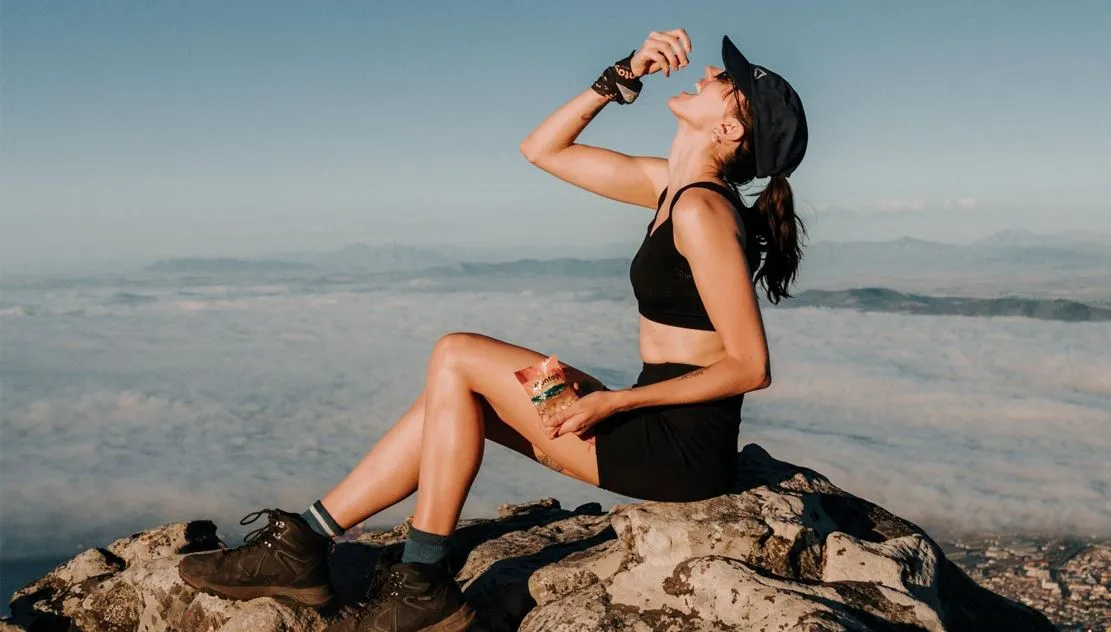 Ah, comfort zones…
They're just so… what's the word…? Oh, that's it… comfortable.
Someone wise (and annoying) once said that "great things never came from comfort zones". Well, clearly they hadn't experienced a really good one for themselves. Comfort zones are cosy, cushy, comfy and risk-free. They don't push you, they're predictable and pretty much pain-free.
Comfort zones are awesome - if that's all you want out of life. Though we can bet that you, like most people, are hoping for a little bit more… and wanting to squeeze a little more juice out of this lemon called 'life'.
Excitement, spontaneity, something new, a thrill or two - whatever it is, you can find a little adventure wherever you are, if you only look past the plain-old, same-old and mundane… and take that first step.

Here are 10 ideas to help you find adventure in your everyday:
1. Get off social media!
Time for a truth bomb, people (and this might sting a bit)...
Social media has an amazing way of making you think that you've been somewhere, done something, seen someone, or achieved something. But it's an illusion. After an hour of mindless scrolling, all you've really done is wasted an hour of your time from the comfort of your couch. And depending on your personality, it's very easy to let someone else's highlight reel make you feel negative about your own life. Comparison will rob you of the ability to see the unique beauty of your world.
Now, this doesn't mean social media doesn't have value. Of course it does! It's great being able to share and stay up to date with what's going on in peoples' lives. But when you don't have limits and boundaries, it has the potential to steal away precious time you could be spending actually making memories and creating a highlight reel of your own. It can also be very energy-sapping - and you need that energy to get up and do things.
The key point here is this: spend less time scrolling, and more time living. And just watch how your perspective changes…
2. Make a list
Define 'adventure' for yourself. What would an adventure look like in your own life? For some people, adventure might look like going for a morning run in nature alone. For others, it might mean bungee jumping off a bridge. Adventure is relative, and that's ok.
What have you always wanted to do, big or small? Write it down - writing somehow makes an idea more concrete and real. It's actually a bigger step than you might think, because now it's not floating around inside your head - it's visible, in ink, on your fridge. It's in that in-between space between thinking and doing.
Start your list with simple things, and go from there:
Go for a hike

Go swimming in the ocean

Go camping

Learn to fish

Explore your city on foot

Have a mommy-daughter / father-and-son date

Take a drive without a destination in mind

Change your hairstyle

Colour your hair

Camp in your backyard during load shedding

Start (and finish) a painting

Sign up for a race or a marathon

Take a SUP or surf lesson

Go bargain hunting with a friend
3. Make the time
This is key. While adventure needn't always be planned down to the last detail, it's always a good idea to make space for it. Weekends are usually the most consistent, predictable blocks of time to slot in 'adventure time'. So whether you make Saturdays 'Adventure Days' or one weekend a month an 'Adventure Weekend', be consistent and prioritise that time.
This can be extra special if you have kids. Having something that you can look forward to as a family will make it less tempting to bail on your plans last minute (think of the kids!). Whether you do adventurous things alone, with a friend or with family, making the time will always be worth it.
Here are some tips to help you stick to your plans:
Block out dates in your calendar

Make adventure time non-negotiable

Buy any essentials you need beforehand

Get excited and talk about your plans during the week

Let your kids choose an activity

Iron out the details together
4. Make promises to yourself (and keep them)
It's one thing to make and keep promises to someone else. It's another thing to make and keep them to yourself. Deciding to do something and following through is such a positive step towards personal growth. It doesn't matter what it is - the sense of accomplishment is the same.
It can be challenging to step out of your comfort zone when you feel stuck in a rut with certain habits. But don't give up! Make a promise to yourself that you will stick to whatever you decide you want to do - no matter what. And if you don't manage to do it, make a promise to try again until you do.
Here are just a few ideas of personal promises to get you started:
I will do three affirmations each morning.
I will do one thing outside of my comfort zone this week.
I will ask my friend to go with me to that class.
I will make a list of five things I want to achieve this year.
I will sign up for that race even though I don't feel fit enough right now.
I will show myself grace when I don't get something right.
I will attend that event even when I'm tempted to bail at the last minute.
I will do one hour of painting every day.
5. Get accountable
No one is as good at talking you out of doing something than, well… you. That's why you sometimes need a good friend, preferably a seasoned adventurer, to nudge, shove or drag you out of your comfort zone and keep you accountable. Pick someone who knows you well enough to know when you're avoiding, dodging, or fleeing the edge of your cosy comfort zone. You'll thank them later.
Accountability can take many forms:
Sign up for a race with an encouraging friend
Find an enthusiastic gym buddy
Do a 30 day health plan with a friend who also wants to be healthier
Ask a friend to phone you once a week to check on your progress
Give someone permission to have hard conversations with you
Tell a supportive friend of your plans and update them on your journey
6. Form good habits
Good habits
are the foundation of a healthy, active, adventurous life. These are the practices that will propel you towards the edge of your comfort zone.
When you feel like you're in a slump, with little to no good habits to get you into a positive headspace, it's unlikely that you'll see many opportunities for adventure. When you feel good physically and mentally, and you have energy and a positive mindset, you'll be much more open to embracing a challenge.
Here are just some simple habits to nurture as part of your healthy lifestyle:
Get active
Prioritise rest
Eat a healthy breakfast
Drink enough fluids
Get enough sleep
Practice regular

self-care

Leave work at work
Have supper around the table
Read before bed
Listen to

encouraging podcasts
7. Put on your 'adventure specs'
This is totally cheesy - but it totally works! Get ready for adventure when you get ready for your day. Put on your 'adventure specs' and put adventure on your agenda. When you intentionally plan to see the mundane things of your day differently, your whole perspective can change. This is such a powerful thing to do with your kids too. Give it a try!
When you put on your 'adventure specs':
Shopping trips become scavenger hunts
School runs become car parties
Making supper becomes Master Chef Family Edition
Backyard braais become camping under the stars
Cleaning the house becomes The Amazing Race
Walks in the garden become nature expeditions
You get the idea…
8. Conquer a fear
There are plenty of quotes out there about
fear
. You could probably recite a handful of them if someone had to ask you. It's easy for those quotes to encourage or motivate you, but in the end, we will all need to face something challenging, like a fear, an obstacle, or something that we have to overcome in order to step out of our comfort zone.
Is failure the thing you fear? Good news: we all fail. So try, fail, try again, fail, try something different.... The real failure is not trying at all. So whatever you do, don't let fear immobolise you to the point of doing nothing. Don't let it kill a dream or a goal before you even give it a chance. Recognise fear for what it is, embrace it, analyse it, and use it to move you forward.
Make a list of fears you want to overcome, and take steps toward conquering them.
9. Be spontaneous
Have you ever wished you could be a little more spontaneous? Even if you haven't, that's ok. Spontaneity doesn't come naturally to everyone's personality. Not everyone can just do things easily at the drop of a hat.
Though sometimes venturing into 'unplanned' territory is what you need to embrace a bit of adventure. If you feel like more spontaneity will help your own personal growth, then you should absolutely give it a go. Try not to overthink it. In fact, don't think at all. Sometimes you just need to "do" and think "did I just do that!?" afterwards.
What does spontaneity look like for you? Why not create a 'Spontaneous Jar', with pre-written ideas of things you can do on the fly whenever the opportunity arises. Try to include things you wouldn't normally do if it were left up to you.
Go for a walk on the beach
Go see a movie alone
Phone a friend for a spontaneous coffee
Take an unplanned drive
Crank up the music and dance it out when you're alone at home
Volunteer at an animal shelter
Take your kids to the beach and get ice-cream
Take a mental health day
Send someone flowers
Throw a party for no reason
Play a fun prank on someone
Rearrange your furniture
Change your hair
Pay for someone's coffee or meal anonymously
10. Fuel your adventure
Adventure is always better with the right snacks! They somehow make most simple activities super exciting. Getting out and about with family and friends is so much better with snacks that give you lasting energy, lots of nutrients and vitamins, and of course, some tasty sunshine goodness. Picnics, beach hangs, mountain hikes, pool parties, whatever your adventure, fuel up with really good snacks like:
Trail mix
Fruit Flakes
Fruit Swirls
Mixed nuts
Dried mango
Biltong
and lots more!
Find a
Montagu Branded Store
near you or check out our convenient
online store
.
Here's to venturing out of your comfort zone and embracing a bit of adventure this year! You've got this.

Spend R350 or more in store and stand a chance to WIN your share of R25,000 worth of fantastic prizes in our
UNCHARTED
Movie in-store competition! Prizes include:
1st prize:
An Africamps Boutique Glamping Experience To The Value of R20 000
2nd prize:
R5 000 Cape Union Mart voucher
3rd prize:
An
Uncharted movie
merchandise hamper and a
Montagu Snacks
hamper to the value of R2 000
Promotion running from 11 February - 20 March 2022. See in-store for details.