The Best Types of Nuts for Healthy Snacking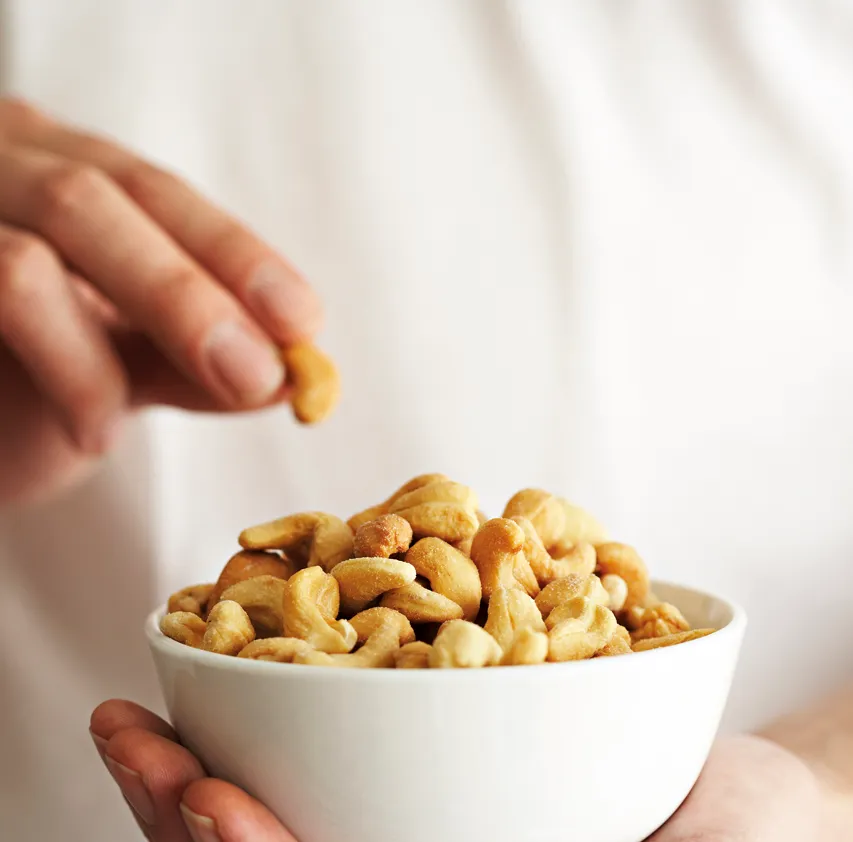 What Are Different Types of Nuts?
When it comes to snacking that is both healthy and satisfying, there's a nut to fulfil every taste. The different types of nuts, whether raw, savoury or sweet, each offer their own health benefits for a guilt-free snack.
Nuts
are an excellent source of plant-based protein, omega-3's and monounsaturated fats, as well as a dairy alternative that is vegan and lactose-intolerant friendly.
They also contain an abundance of minerals and vitamins. This makes them one of the best snacks for vegetarians or vegans looking to get a protein boost in their day.
In this article, we'll be naming just a few nutrient-rich nuts that can be enjoyed as a healthy snack filled with health benefits.
Macadamia Nuts and Their Health Benefits
Macadamias are champions of heart health thanks to their high levels of healthy monounsaturated fat. Research studies have found that regularly eating macadamia nuts improves both good HDL cholesterol levels and blood pressure levels. The effects of a macadamia-rich diet were even comparable to those of a heart-healthy diet recommended by the American Heart Association. Macadamia nuts may also reduce other heart disease risk factors.
Macadamias
can be enjoyed raw,
lightly salted
, or caramelized for a sweet treat.
Cashew Nuts and Their Health Benefits
Cashew nuts are known for their crescent shape and delicate taste. These South American nuts are more than just a tasty snack. Cashew nuts contain healthy monounsaturated fats, and when consumed as part of a healthy diet, have been shown to lower blood pressure as well as cholesterol levels. They are also packed full of a number of beneficial nutrients including potassium, magnesium, iron and calcium.
If you would like to incorporate
cashews
into your diet, you can add them to salads, stir-fries or even a Thai curry for a bit of crunch and texture. Cashew nuts, in the form of cashew milk, are also a healthy dairy substitute.
Almonds and Their Health Benefits
One handful of almonds pack a nutrient-rich punch. Not only are almond nuts a source of fibre, Potassium, Magnesium and Vitamin E, they are also used to produce a variety of nut-based products suitable for individuals with special dietary requirements or preferences. Eating almonds have a number of other potential health benefits. They may support weight loss and improve gut health.
Incorporating
almonds
into your diet should be a breeze. They are delicious to eat raw, but you can also incorporate one of the many almond nut-based products into your diet. Why not substitute cow's milk with almond milk for your morning cup of coffee, or bake a flourless cake using almond flour?
Pecan Nuts and Their Health Benefits
Pecans make an excellent healthy snack owing to their rich antioxidant and anti-inflammatory properties. As a result, regular moderate consumption may help reduce your risk of developing diabetes or heart disease.
Pecan nuts
are mostly used for baking owing to their sweet flavour. But don't fret if you're not a sweet tooth, these nuts can still be used in savoury dishes. Pecan nuts work well paired with apple and cranberry to make a fresh summer salad. Instead of your usual morning muesli, you can also add them to Greek yoghurt with a dash of cinnamon - Yum!
Montagu Snacks - Trusted Quality Snacks Including All the Varieties of Nuts You Could Want
Nuts are a good source of essential vitamins and minerals - especially for those on plant-based diets. Different types of nuts offer different nutritional benefits. Cashew nuts and macadamia nuts are known for being packed with healthy fats that are good for your heart and may help fight cholesterol. Almonds support gut health by stimulating good bacteria in the gut. Pecan nuts can contribute toward lowering your risk of diabetes and heart disease.
With many different types of nuts to choose from, nuts are a fuss-free option for healthier snacking.
You can stock up on all the
nuts
in this article and many other
healthy snacks
at a Montagu store near you, or right here on the
Montagu website
.