Easter Fruit Galette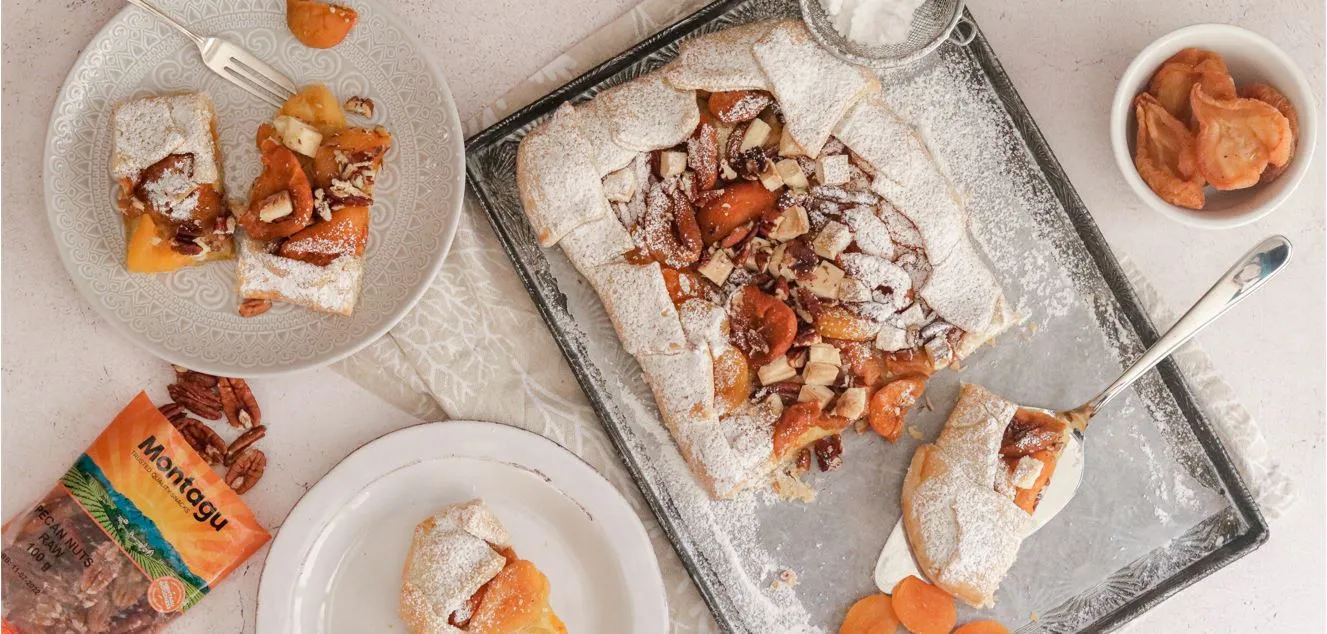 A rustic but beautiful Easter dessert for the family. The elements of this dessert can be prepared in advance, and assembled and baked just before serving. Serve with a scoop of vanilla ice cream or some cream.

Serves 6-8

Ingredients:
For the filling:
500-750ml (2-3 cups) hot water
50g butter, softened
50g castor sugar
5ml (1 tsp) almond essence
1 large egg
25g plain flour
To assemble:
400g roll shortcrust pastry
60g white chocolate, cut into chunks
1 large egg, beaten
icing sugar, for dusting
Method:
Place the dried apricots, peaches and pears in a small saucepan. Add the water, making sure that the fruit is covered (add extra if you need to).
Bring the water to a boil, then lower the heat and simmer for 20 minutes or until the fruit is just tender. Drain the water and set the fruit aside to cool.
Preheat the oven to 200ºC and line a tray with baking paper.
To make the frangipane place the butter and castor sugar in a bowl. Cream until well combined and fluffy. Beat in the almond essence and egg. Add the almond flour and plain flour and mix to combine.
Unroll the pastry on the baking tray. Spread the frangipane filling over the pastry, leaving a 3cm border around the edge.
Arrange the fruit pieces over the filling. Sprinkle the chocolate and pecan nuts over the fruit.
Cut slits in the pastry border at 5cm intervals. Fold the flaps over the filling, ensuring that they overlap slightly so that the filling doesn't leak out. Brush the beaten egg over the pastry edges.
Bake for 35-40 minutes, or until the pastry is golden and baked through. Leave to cool for a few minutes before dusting with icing sugar and slicing. Serve with ice cream or cream..Can be enjoyed warm or at room temperature.
Recipe and photo credit: Teresa Ulyate from
Cupcakes and Cous Cous