Cucumber, Mint & Black Currant G&T

With Christmas behind us it's on to New Year's Party planning and we've got your summer sipping sorted, thanks to Chef Mynhardt! Sip in style with this cucumber, mint and Montagu black currant Fruit Flake Gin and Tonic.

Add some prunes wrapped in bacon hors d'oeuvre and you're set for your next celebration!
Thank you Chef Mynhardt Joubert
Serves: 4
Prep time: 15 minutes
Cooking time: 10 minutes
Easy to make
Ingredients
Gin and Tonic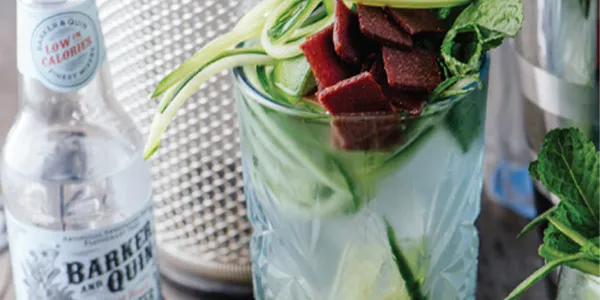 8 shots of your favourite locally made gin
800ml (4 bottles) artisan tonic water
Some fresh mint and cucumber spaghetti
Bacon-wrapped Prunes
200g (1 packet) Streaky bacon
50g Montagu pine nuts, toasted and slightly chopped
100g Cream cheese
5ml Fresh thyme leaves
Handful fresh Italian parsley
Salt and Pepper to taste

Method
Gin and tonic
Fill each glass with ice and add the 2 shots of gin in each.
Top up with the tonic water and garnish with the cucumber, mint and fruit flakes.
Bacon-wrapped prunes
Mix the cream cheese, pine nuts, herbs and seasoning together and stuff each prune.
Wrap a strip of bacon around each prune and bake in a preheated oven (180 degrees Celsius) for approx. 10 minutes until crispy.
Serve with the gin and tonic.