Ginger Koesisters

Makes 24
Ingredients:
For the dough:
600g cake flour
100g white sugar
5ml (1 tsp) baking powder
2.5ml (½ tsp) salt
10g instant dry yeast
15ml (1 tbsp) ground cinnamon
15ml (1 tbsp) aniseed
5ml (1 tsp) ground cardamom
5ml (1 tsp) ground ginger
100g
Montagu Ginger Slices
, finely chopped
30g butter, melted
210ml warm water
200ml warm milk
15ml (1 tbsp) finely grated orange zest
1 large egg
100g
Montagu Coconut Flakes
vegetable oil, enough for deep frying
For the syrup:
500g white sugar
500ml (2 cups) water
10g cinnamon sticks
60g
Montagu Ginger Slices
, cut into large chunks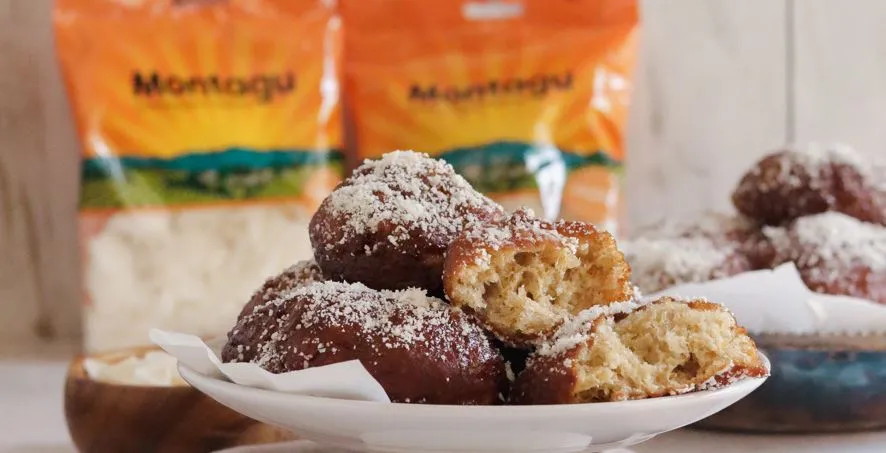 Method:
Place the flour, sugar, baking powder, salt, yeast, dried spices and chopped ginger in a large bowl. Mix to combine.
Combine the butter, water, milk and orange zest in a jug. Whisk in the egg.
Pour the wet ingredients into the dry ingredients. Mix for a few minutes until well combined into a sticky dough.
Pop the dough into a lightly oiled bowl, cover with oiled plastic wrap and leave in a warm place for 1-2 hours until risen and doubled in size.
While the dough is rising place the coconut flakes in a blender and blitz for a few seconds until fine. Set aside.
Tip the dough out onto a lightly floured surface. Divide into four equal pieces, then divide each of those into six pieces so that you have twenty four in total. Wet your hands slightly and shape each piece of dough into an oval shape about 1cm thick. Arrange the ovals on a floured tray and set aside for another 30 minutes.
Heat some vegetable oil in a pot to 180ºC. It's best to use a thermometer, but you can also use the handle of a wooden spoon to test the oil - if bubbles form and boil around the handle then it's ready. (If the oil bubbles very vigorously around the handle then it's too hot.) Fry the koesisters in batches for a few minutes per side until a dark golden colour. Transfer the koesisters to a piece of kitchen towel to drain.
Place all the syrup ingredients in a large saucepan. Stir over a low heat to dissolve the sugar, then bring to a gentle boil. Allow to boil very gently for 8-10 minutes or until slightly thickened. Lower the heat and add the cooked koesisters to the simmering syrup in batches. Allow them to sit in the syrup for a minute tossing once or twice, then transfer straight to a plate and sprinkle with coconut.
Best served fresh!

Recipe developed, styled and photographed by: Teresa Ulyate from Cupcakes and Couscous