DIY S'mores Jar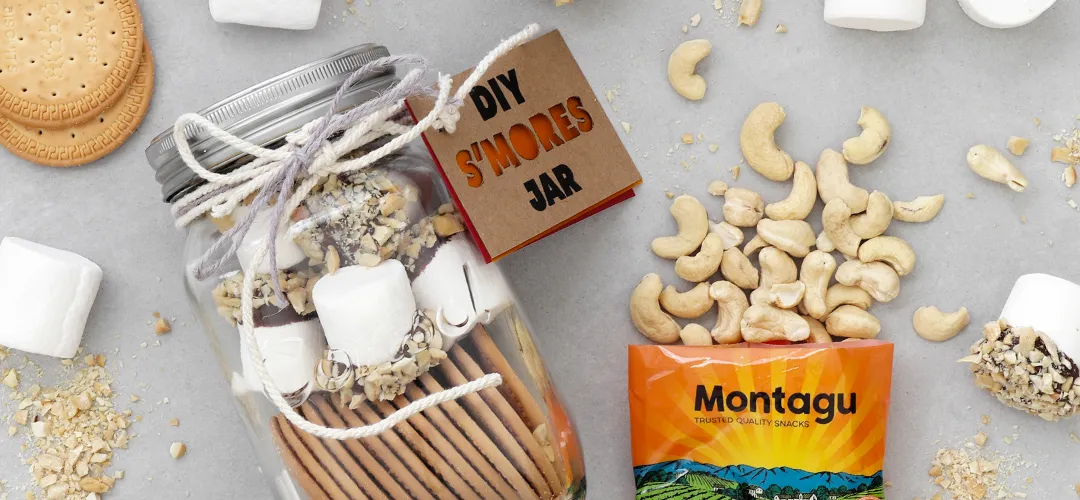 Need some Father's Day inspiration? Well, look no further. We have a couple of ideas up our sleeve. Thanks Ate Kitchen for bringing these to life!

Hope you enjoy making these and remember to share your final product with us on Instagram @montagusnacks
Ingredients:
Marie Biscuits 18

Marshmallows 9

Milk Chocolate 100g
Method:
Place the cashew nuts on a lined baking tray and put them in an oven at 180°C for 5 to 10 minutes, stirring every couple of minutes to get them evenly roasted.
Melt the chocolate in the microwave at ten second bursts, or in a bowl over a pot of hot water.
Dip the marshmallows into the chocolate, about a third of the way up, and then dip into the chopped roasted cashew nuts.
Place them on a sheet of baking paper until the chocolate has set.
Place the marie biscuits at the bottom of a glass jar (you'll need two marie biscuits for every marshmallow), then top up the glass jar with the chocolate and roasted cashew nut coated marshmallows.
Seal the jar, decorate and include a tag.
To make the s'mores, place a marshmallow - chocolate side down - on one marie biscuit and pop in the microwave for about 10 seconds, until the marshmallow has ballooned up, then remove from the microwave and squash down with another marie biscuit.
An easy treat for dad to make in a few seconds.


Have fun making these!