Montagu sweet chicken curry with Turkish apricots, fruit chutney and creamed samp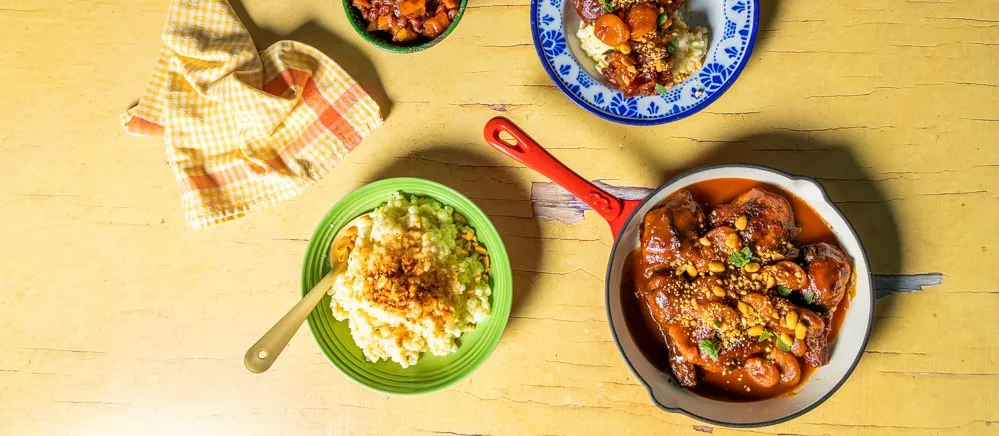 Craving a fragrant winter curry? This brand new sweet chicken curry with Turkish apricots, fruit chutney and creamed samp from Chef Mynhardt is what winter warmers are made of.

The sweetness of the curry, the fruity tang of the homemade chutney and buttery creaminess of the samp are all a match made in food heaven - perfect to tantalise your tastebuds over a chilly weekend.

Serves: 6-8 people
Prep Time: 30 minutes
Cooking Time: 1 hour
Oven temperature: 180 degrees Celsius

Easy to make
Ingredients: Sweet chicken curry
Sweet chicken curry
2kg chicken drumsticks and thighs
Some chicken spice
Willow Creek jalapeno flavoured olive oil
2 tins crushed pineapple
600ml pineapple or apricot juice
1 cup brown sugar
1 cup red wine vinegar
1 cup good quality tomato sauce
10ml paprika
45ml curry powder or paste
Salt and pepper to taste
250g Montagu Turkish apricots
2 packets Montagu Sriracha flavoured peanuts to serve
Method: Sweet chicken curry
Toss the chicken portions in the olive oil and season with the chicken spice.
Place on a baking tray and roast in the oven until cooked and browned.
In a large pot, bring the crushed pineapple, juice, sugar, vinegar, tomato sauce, paprika and curry to a slow boil.
Cook for 5 minutes, season to taste and blend until smooth with a stick blender.
Once the chicken is cooked, add it to the curry sauce and bring to a boil.
Add the apricots and cook for 5 minutes.
Serve hot with the chutney, samp and some crushed sriracha peanuts.

Ingredients: Fruit Chutney
1 cup Montagu sultanas
100g Montagu dried mango, chopped
50g Montagu ginger slices, chopped
2 cups water
1 cup brown sugar
1 cup white wine vinegar
5ml salt
Method: Fruit Chutney
Fruit chutney
Place all the ingredients in a saucepan and bring to a boil.
Cook until the chutney is sticky and gooey.
Cool down before serving with the chicken and samp.

Ingredients: Samp
800g samp, soaked overnight in cold water
250g butter, cubed
250ml cream
Salt to taste
Method: Samp
Rinse the samp under cold water until the water runs clear.
Place in a large pot and cover with cold water.
Bring to a boil and cook until soft, about 30-45 minutes.
Strain the samp and rinse under cold water.
Place back in the pot with the butter and cream and season to taste.
Warm through until bubbling and serve with the curry and chutney.