Butternut and Walnut Salad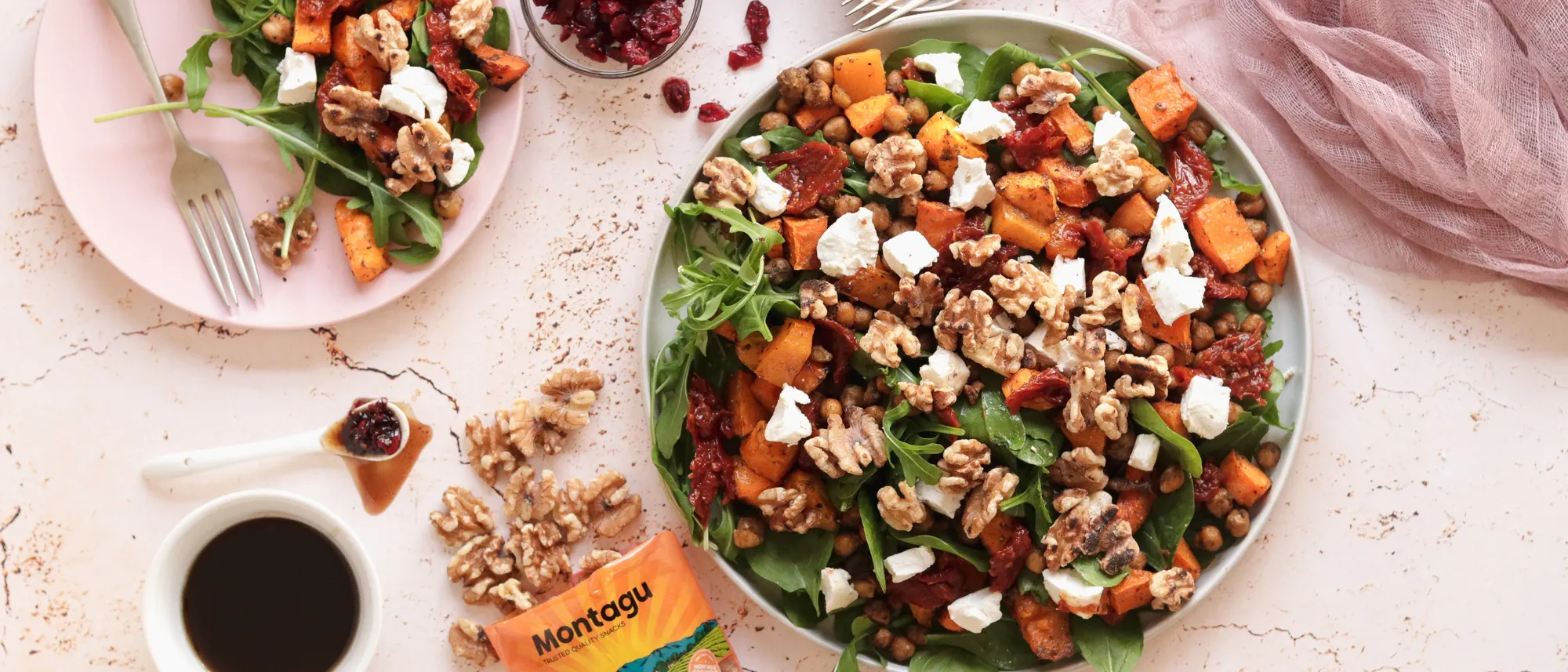 Hearty and wholesome, it's ideal for those colder days scattered in between the warmer ones - full of flavour and topped with crunchy toasted walnuts.

Serves 4-6 as a side dish
Ingredients:
For the salad:
500g butternut, cut into bite sized cubes olive oil, for drizzling
salt and pepper
400g tin chickpeas, drained and rinsed
10ml (2 tsp) ground cumin
75g baby spinach leaves
25g wild rocket
100g marinated sun dried tomatoes, sliced
100g soft goats cheese
For the dressing:
45ml (3 tbsp) olive oil
15ml (1 tbsp) balsamic vinegar
2.5ml (½ tsp) runny honey
20g Montagu dried cranberries, very finely chopped
Method:
1.) Preheat the oven to 190ºC. Arrange the butternut on a roasting tray. Drizzle with some olive oil and season with salt and pepper. Roast for 25 minutes.

2.) Place the chickpeas in a bowl. Add a drizzle of olive oil and season well with salt and pepper. Add the cumin and toss everything together. Remove the butternut from the oven and add the chickpeas to the roasting tray. Roast for a further 20 minutes or until the butternut is just tender.

3.) While the butternut is roasting place the walnuts in a dry frying pan over a medium heat. Toast the walnuts, shaking the pan regularly until they are golden and have a very nutty aroma. Set aside to cool.

4.) Arrange the baby spinach and rocket on a large serving plate. Top with the roasted butternut, chickpeas and sun dried tomatoes. Cut the goats cheese into small pieces and dot these on top. Sprinkle with the walnuts.

5.) To make the dressing place the olive oil, balsamic vinegar, honey and cranberries in a small jar. Shake the jar vigorously until the oil and vinegar have combined. Drizzle some of the dressing over the salad and serve immediately. Store leftover dressing in a cool place and use within a week.