Sweet Potato and Aubergine Curry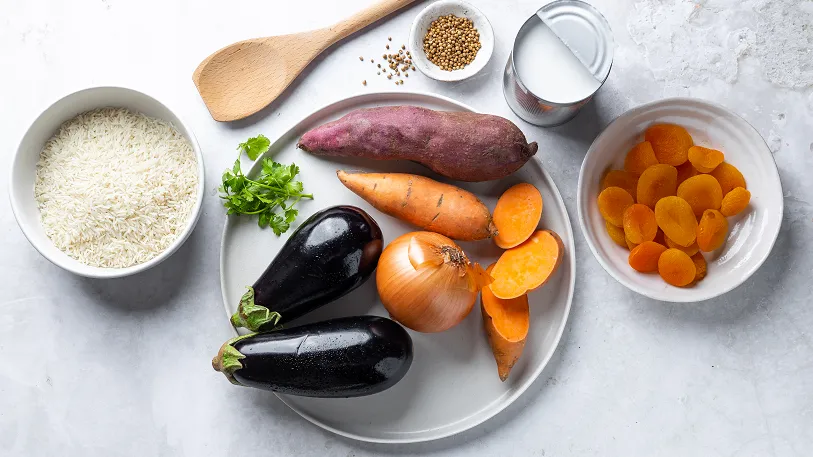 If you are looking for some inspiration for those mid-week meals

, see how easy it can be to enjoy the benefits of a plant-based diet with this delicious winter warmer meal.

Ingredients:
Serves 2

For the curry:
1 large sweet potato (or 2 medium – 1x white, 1x orange)
1 aubergine
1 onion
4 cloves garlic (peeled)
¼ cup chopped Montagu Turkish apricots
1 tbsp melted coconut oil
1 tsp coriander seed
1 tsp cumin seed
1 tsp ground cumin
1 tsp ground coriander
Pinch cayenne pepper (optional)
½ - 1 tsp salt (according to taste)
1/4 cup water
1 can coconut milk

For the rice:
1 cup basmati rice
4 cups water
2 tbsp desiccated coconut
Pinch salt

Serve with:
Montagu Cashews
Fresh Coriander
Black pepper
Method:
Preheat the oven to 180ºC

Roughly chop the sweet potato, aubergine and onion and place out on a lined roasting tray with the garlic cloves. Drizzle with oil and season with salt. Roast for 30min until tender and slightly caramelized.

In a large pot prepare the basmati rice according to packet instructions and once cooked drain off water and set aside.

Once the vegetables are cooked, add them to a large pot with the spices, chopped apricots and coconut milk. Allow to cook on a low heat for 10-15min until the coconut milk has absorbed the flavour and colour of the vegetables. Add more water if necessary.

To serve, dress the rice with desiccated coconut, cumin seed and coriander seed. Scoop some rice and curry into a bowl and garnish with fresh coriander and cashew nuts.