Pork Rissoles with Garlic Mash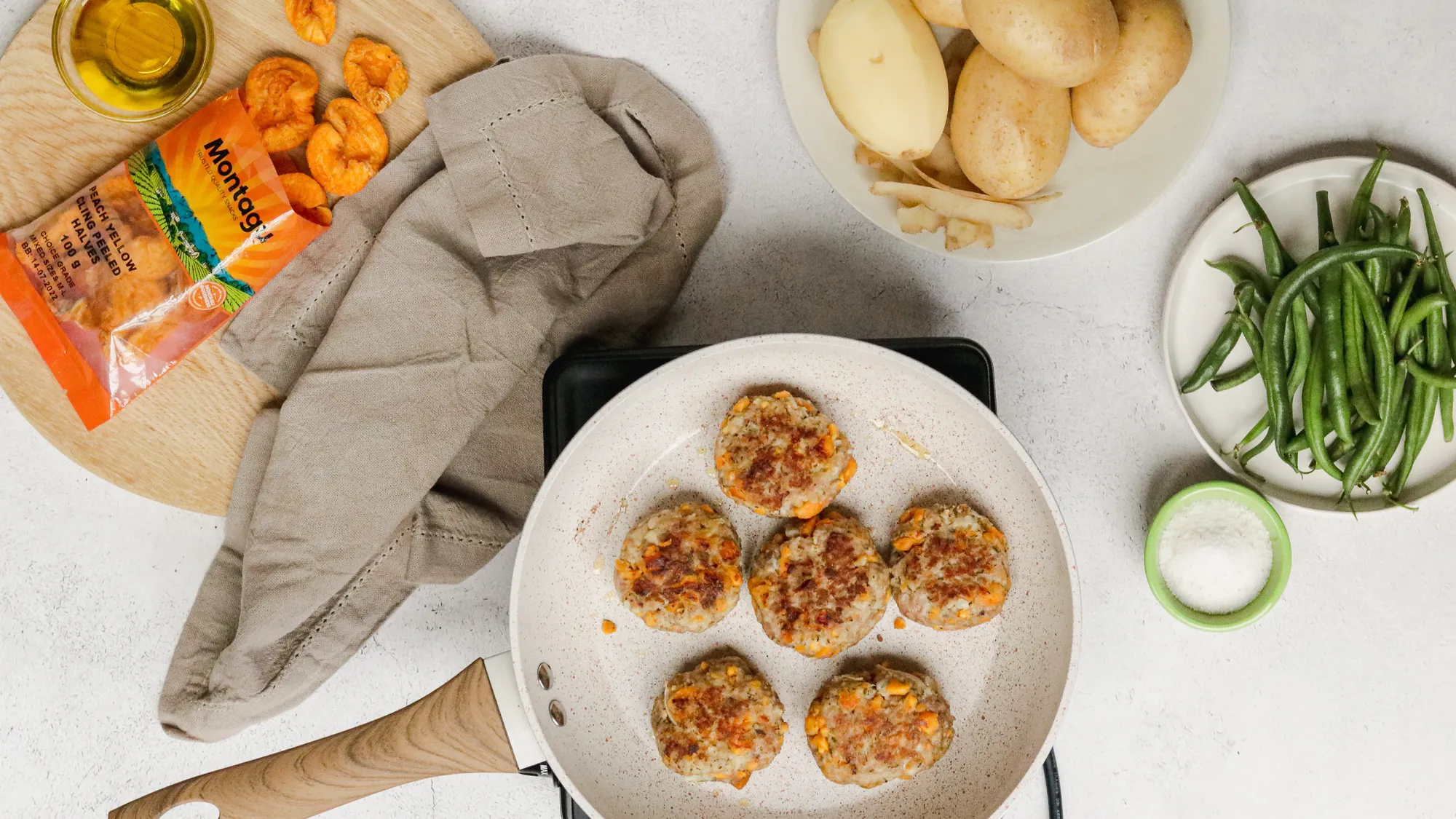 This hearty winter supper is full of flavour and sure to be a hit with the whole family!

Ingredients:
Serves 4

For the garlic mash:
1 whole bulb of garlic
1kg potatoes
40g butter
45ml (3 tbsp) milk
5ml (1 tsp) salt

For the rissoles:
100g Montagu Dried Peaches
500g pork mince
1 small onion, grated
60g breadcrumbs
2.5ml (½ tsp) salt
2.5ml (½ tsp) black pepper
10ml (2 tsp) thyme leaves
15ml (1 tbsp) mustard
1 large egg, lightly beaten
10ml (2 tsp) olive oil, to fry
Method:
Preheat the oven to 200°C. Remove most of the outer layers from the garlic bulb, leaving one so
that the bulb stays intact. Slice a few millimetres from the top of the bulb and wrap it in foil. Roast
for 30 minutes or until very soft. Allow to cool slightly, then squeeze the soft garlic out of the bulb.
Mash or chop up finely and set aside.

To make the rissoles place the peaches in a bowl and cover with boiling water. Leave to soak for
20 minutes, then drain and allow to cool. Chop the peaches up finely.

Place the pork mince in a bowl. Add the chopped peaches, onion, breadcrumbs, salt, pepper,
thyme and mustard. Mix well. Add the egg and mix again until everything is well combined.
Use your hands to divide the mixture into 12 equal pieces. Roll each piece into a ball and flatten
slightly with your palm. Arrange the patties on a plate and refrigerate for 30 minutes.

While the patties are chilling peel the potatoes and cut into chunks. Bring a pot of salted water to
the boil. Add the potato chunks and boil until tender, then drain.

Warm the butter and milk together then add to the cooked potato with the salt and half of the garlic
set aside earlier. Mash together until smooth. Taste and add more garlic if you prefer. Keep warm.
Heat the olive oil in a frying pan. Cook the rissoles in batches for 4-5 minutes per side until cooked
through.

Serve the rissoles immediately with the mash and your favourite veggie side dish.