Hot Cross Bun Pancakes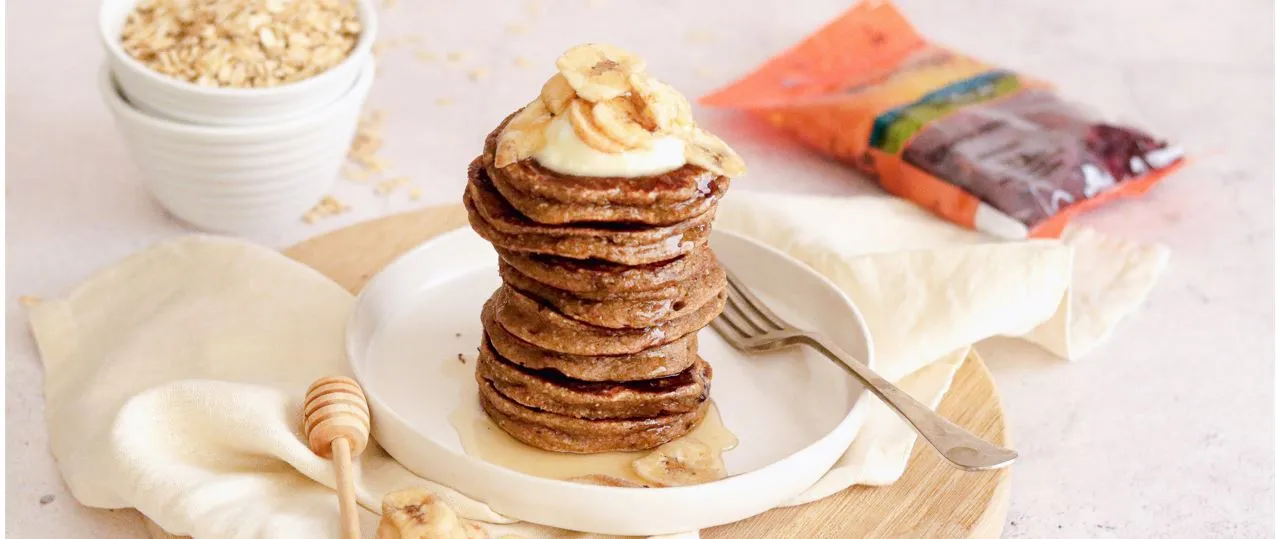 This quick and easy breakfast recipe is perfect for Easter morning, especially if you want to make something wholesome for the family before the easter egg hunt! These banana pancakes taste like hot cross buns and are simply delicious with a drizzle of honey.

Makes 9 pancakes

Ingredients:
75g Rolled oats
1 medium banana (about 120g when peeled)
1 large egg
50ml milk
5ml (1 tsp) vanilla essence
5ml (1 tsp) cinnamon
1.25ml (¼ tsp) mixed spice
small pinch of nutmeg
5ml (1 tsp) baking powder
2.5ml (½ tsp) orange zest
butter or coconut oil, for frying
honey, to serve
Method:
Place the oats, banana, egg, milk, vanilla, spices and baking powder in a blender. Blitz until smooth.
Stir in the raisins, cranberries and orange zest. Note: the batter will thicken on standing so use immediately.
Heat the butter or coconut oil in a pan. Scoop 30ml/2 tablespoons of batter into the pan per pancake. Cook until bubbles appear on top of the pancake, then flip over and fry until cooked through. Keep in a warm place while you cook the rest of the batter.
Stack the pancakes and top with a drizzle of honey and a sprinkling of banana chips. Serve immediately.
Serving suggestion - spread some plain yoghurt on the pancakes to make them extra filling. You can also double the batter if you're cooking for a crowd.
Recipe and photo credit: Teresa Ulyate from
Cupcakes and Cous Cous