Double Cashew Honey Bars

20 MINUTES
Ingredients:
1x500g cashew packet)
2 cups
raw cashews
(whole)
2 cup
raw cashews
(chopped)
½ cup honey
¼ cup cashew butter
1 tsp vanilla extract
*optional - Melted Chocolate for drizzle

Instructions
Spread your cashews out evenly on a baking tray.
Lightly Roast them for 10-12 minutes at 160 degrees. Chop half the cashew nuts into small pieces.
Leave half the cashews whole.
Line a square baking tray with baking paper.
Place the nut butter and honey in a small saucepan on low heat, stirring continuously.
As soon as the mixture begins to boil, remove from heat, adding in the vanilla essence and whisk vigorously.
Quickly pour mixture over your cashews and mix thoroughly.
Press mixture into a square baking tray 23x23cm.
The mixture will be very sticky, so use another piece of baking paper to press down firmly into the tray.
Refrigerate +/-2 hours before cutting into squares or bars.
Optional: Decorate with chocolate drizzle.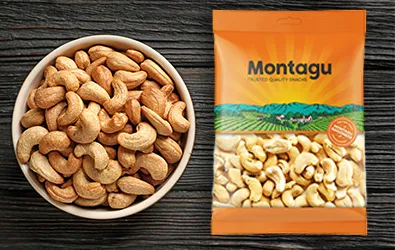 Shop the nutrient rich 500 gram pack of raw cashew nuts from Montagu Snacks online. Delicious raw nuts ideal for a healthy snack time. Click here to buy now Cashew W320 Raw 500 g