Caramel Dried Fruit Pudding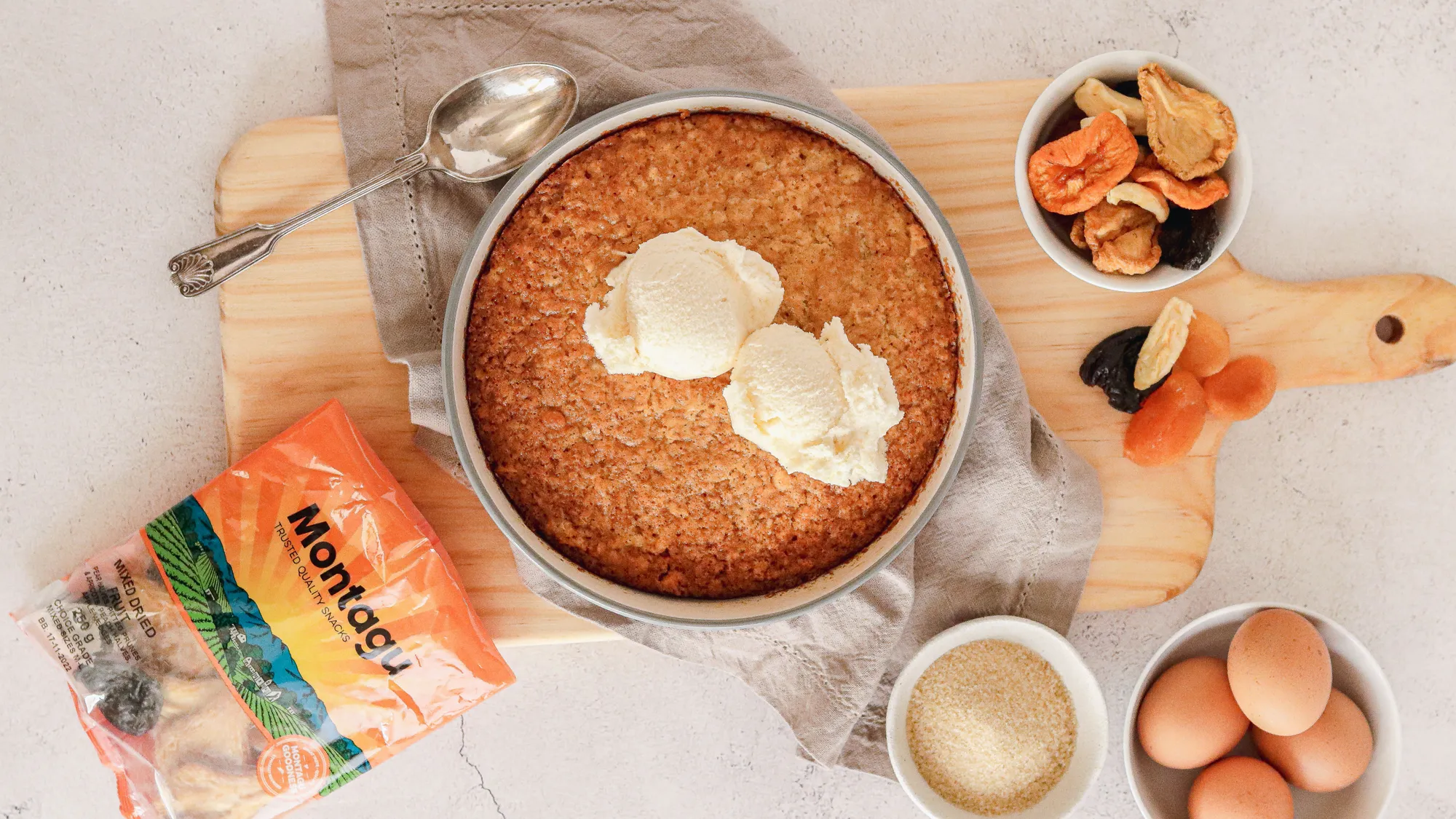 A warm and comforting winter desert with a delicious caramel flavour and pops of fruitiness. Ideal for a family lunch or dinner and quick to prepare.

Ingredients:
Serves 6

For the pudding:
150g Montagu Mixed Dried Fruit

200g cake flour
10ml (2 tsp) baking powder
120g brown sugar
30ml (2 tbsp) golden syrup
60g butter, melted
1 large egg
5ml (1 tsp) vanilla essence
80ml milk
custard or vanilla ice cream, to serve

For the sauce:
100g brown sugar
15ml (1 tbsp) cornflour
150ml boiling water
Method:
Preheat the oven to 180°C and grease a 20cm round oven dish.
Place the mixed dried fruit in a small bowl and cover with boiling water. Soak the fruit for 15
minutes. Drain the water and allow the fruit to cool for a few minutes, then chop.
Sift the flour and baking powder into a bowl. Stir in the brown sugar. Add the chopped fruit and toss
together.
In a separate bowl use a fork to whisk the golden syrup, butter, egg, vanilla essence and milk
together. Pour into the dry ingredients and stir to combine. Pour the mixture into the oven dish.
To make the sauce combine the brown sugar and cornflour in a small bowl. Gradually add the
boiling water and mix until smooth and the sugar has dissolved. Carefully pour the sauce over the
back of a spoon onto the pudding mixture.
Bake for 45 minutes, or until the pudding is baked through. Allow to stand for 5 minutes before
dishing up. Serve warm with custard or ice cream.