Bunny Bait Mango Cheesecake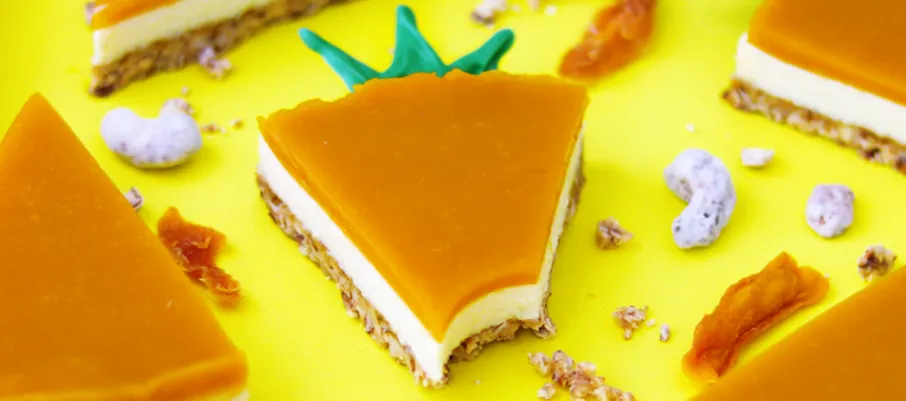 Have you ever seen such an awesome Cheesecake idea for Easter? It is easy to make and you can substitute the Caramel Coated cashews with plain Montagu Cashews.
Ingredients:
CASHEW NUT BASE:
CHEESECAKE FILLING:
Smooth Plain Cream Cheese 1 tub (230g)

Condensed Milk 1 can (385g)

Lemon Juice 25ml
MANGO TOPPING:
Boiling Water 500ml

Sugar 30ml

Gelatin 3 leaves

Ice Cold Water
CARROT TOPPING:
White Chocolate 100g

Green Food Colouring Powder
Method:
CASHEW NUT BASE
Line a 23cm springform cake tin with baking paper. Crush the yoghurt coated cashew nuts and mix with melted butter. Press into the cake tin to get an even layer along the base.
CHEESECAKE FILLING
Beat the cream cheese, condensed milk and lemon juice until smooth and pour onto the cashew nut base. Bake at 180°C for 10 minutes. Remove from the oven, leaving the cheesecake in the cake tin, and allow to cool.
MANGO TOPPING
Place the dried mango strips in a bowl and cover with boiling water, leave to stand for 15 minutes. Strain into a clean bowl and keep the liquid aside. Blend the softened mango and pass through a sieve.
Soak the gelatin leaves in ice water for 10 minutes. Place the smooth mango puree in a pot with the sugar and 250ml of the reserved liquid, bring up to heat and mix well until the sugar has dissolved and the mixture is hot, but not boiling. Remove from the heat, add the gelatin leaves and whisk together well. Pour over the top of the cooled cheesecake while still in the lined cake tin. Place in the fridge overnight or until the topping has fully set.
CARROT TOPPING
Melt the white chocolate and mix in the green food coloring. Pipe eight crown shapes to be used as the tops of the carrot onto a sheet of baking paper and keep aside.
ASSEMBLE
To assemble, remove the cheesecake from the fridge and cut into eight even slices, remove the chocolate from the baking paper and press into the top side of the cheesecake.
Enjoy!