Apple Pie Smoothie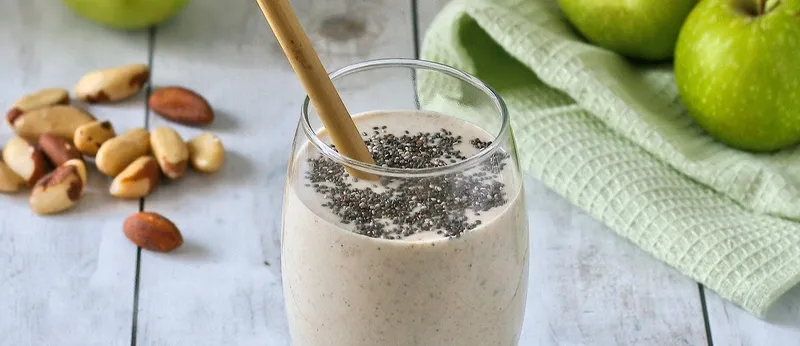 Makes 500ml
Ingredients:
• 2 apples (250g) peeled, cored and cut into chunks
• ½ cup milk of your choice
• ½ cup plain yoghurt
• 1 tbsp rolled oats
• ½ tsp cinnamon
• small pinch of nutmeg
• small pinch of cloves
• 1 tbsp roughly chopped raw
almonds
• 1 tbsp roughly chopped
brazil nuts
• 2 tsp
pumpkin seeds
• 1-2 tsp of honey, to taste
• 2 tsp
chia seeds

Method:
1.) Place all of the ingredients except for the chia seeds into a high powered blender. Blend until smooth and combined.
2.) Pour the mixture into two glasses. Sprinkle a teaspoon of chia seeds over each smoothie and serve.
Note:
You can leave the apples unpeeled if you prefer (there is certainly a nutritional benefit to doing so!) but your smoothie may be a bit more textured as a result.
Recipe and photo credit: Teresa Ulyate from
Cupcakes and Cous Cous