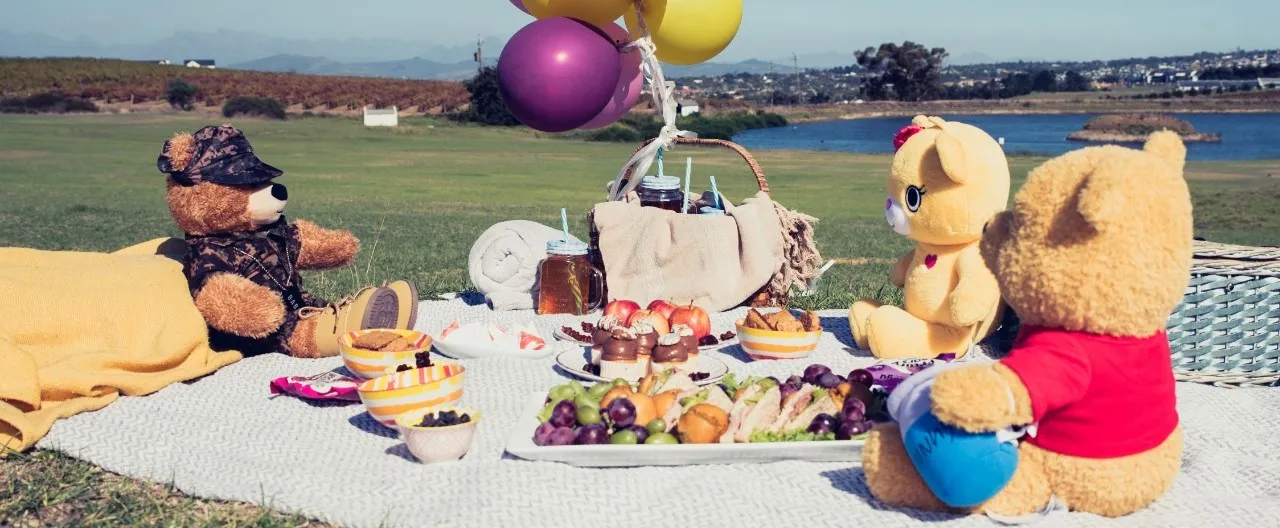 THE PAW-FECT MONTAGU TEDDY BEARS PICNIC
Complete With Healthy Picnic Treats
If you go down in the woods today
You're sure of a big surprise
If you go down in the woods today
You'd better go in disguise!
For every bear that ever there was will gather there for certain
Because today's the day the Teddy Bears have their picnic!

A teddy bears picnic! Could anything be more paw-fect?

There's nothing like a picnic to make a dull day awesome. Good food, good views and good company… Now's the time to make the most of the last of our warm weather and plan the best family outing ever - teddy bear style!
Here's your checklist for a perfectly paw-some picnic
1. The perfect spot
Whether it's your own backyard, the local park or a visit to the beach, it's time to pack your picnic blanket, your sun hat and head to the great outdoors. Every perfect picnic comes down to the
perfect picnic spot.
Think soft green grass, ample space to run around, equal parts of sunshine and shade. Picnic games are very important, of course. So make sure the spot you choose is ideal for raucous games like Hide and Seek, tag, Duck Duck Goose and Ring-a-ring-a-rosies.
2. The perfect companions
A teddy bear's picnic isn't a teddy bear's picnic without… you guessed it… your little one's favourite furry friend! A day filled with bear hugs and brilliant company could be just what your kids need after a hectic week at school. Let them bring along their Teddy friends (and dress them up for good measure) and get ready for an afternoon of fun!
It's highly unlikely that Teddy has ever been out on this kind of adventure before. What if he misses his bedtime? He needn't worry though. He'll be back home by six o' clock, just like the song says.
3. The perfect snacks
Perhaps the most important part of a picnic: bear-y yummy snacks! An assortment of treats that are easy to eat will be the cherry on top of a super memorable day.
One thing you might
not
expect at your paw-fect picnic is a gatecrash by the Easter Bunny himself. But if he comes bearing a big basket of Easter treats like the ones below... the more the merrier, we say!
Try some of these super yummy picnic treats that you can prepare at home beforehand:
Bunny Bait Mango Cheesecake
Cheesecake is a winner at picnics most of the time, but
Bunny Bait Mango Cheesecake
? Now we're talking! Carrot-shaped and oh-so-cute, these cashew-packed bites will be a hit with the whole picnic gang!
Easter Bunny Doughnuts
Is a picnic even a picnic without a generous supply of doughnuts? Make your outing a truly sweet one with these home-made
Easter Bunny Doughnuts
- sprinkled with cashews and packed with fun!
Easter fudge with sprinkles
Step aside, boring chocolate eggs… make way for
Easter Fudge with sprinkles
! These bite-sized treats are so yummy and easy to make, and perfect for the whole fam to whip up together.
Treats like these are always a hit with kids for obvious reasons, but if you want to go easy on the sugar for your little Energizer bunnies, no problem!
Check out our all-new Montagu Fruity Bears for a healthy snack
that Teddy is sure to love too!.
Enjoy your paw-fect picnic and be sure to take lots of Teddy selfies!
Pick out your healthy picnic treats at your nearest Montagu!
Visit your local Montagu to stock up on all your sunshine-packed snacks for your teddy bears picnic. They're guaranteed to make the whole family happy - furry friends included! Find your favourites at your
nearest store
or
order online
today!