Spoil Your Superhero: Gift ideas for your child's favourite teacher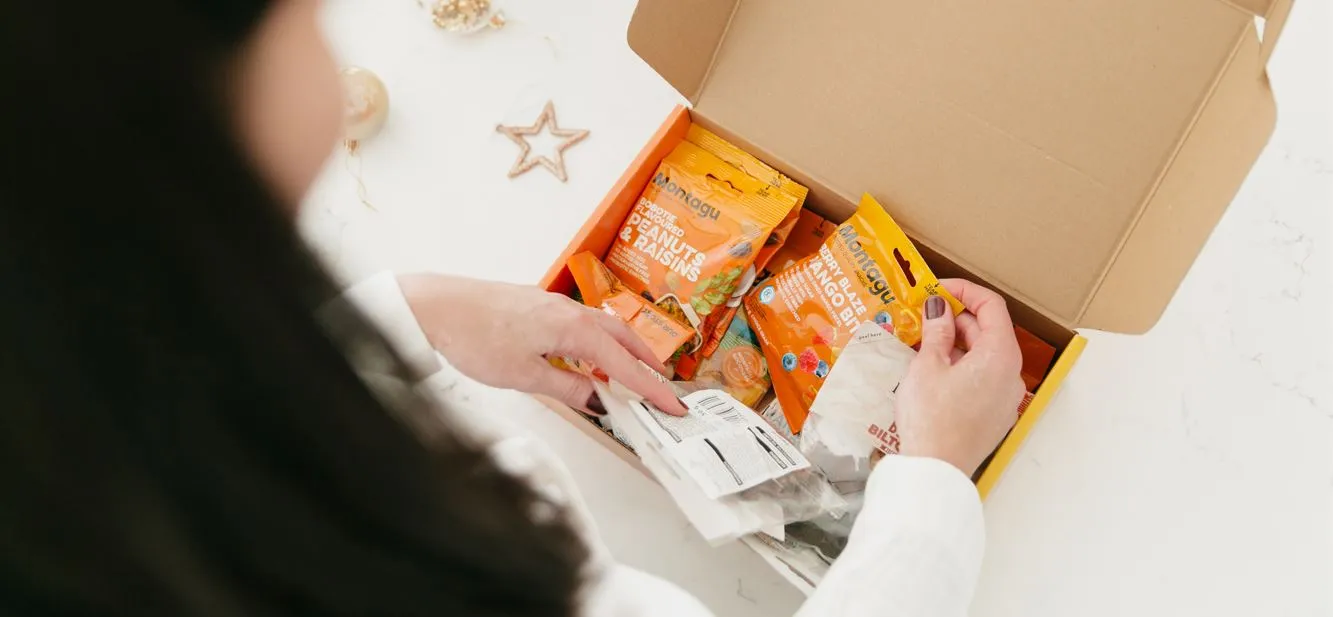 If you're a parent, we think you'll agree that teachers have been the unsung heroes of the last couple of years. Their job can be difficult at the best of times, but the added pressures of lockdowns, Covid restrictions, Zoom sessions, and keeping our kids safe at school have often made teaching extra complicated.
They really are incredible humans. Superhumans.
They'll be the first to say that they don't do it for the recognition, yet recognition is what they absolutely deserve - and so much more. So this year, small gestures can help you and your child express a really big "Thank You". Handmade gifts filled with love and words of encouragement will trump any fancy gift that money can buy.

Spoil your child's favourite teacher with these tasty treats:
1. Christmas Wreath Cookies
These crisp, chewy cookies are gluten-free and filled with the flavours of Christmas. Tie them with festive ribbon for a special touch, and arrange them in a pretty Christmas box or glass jar.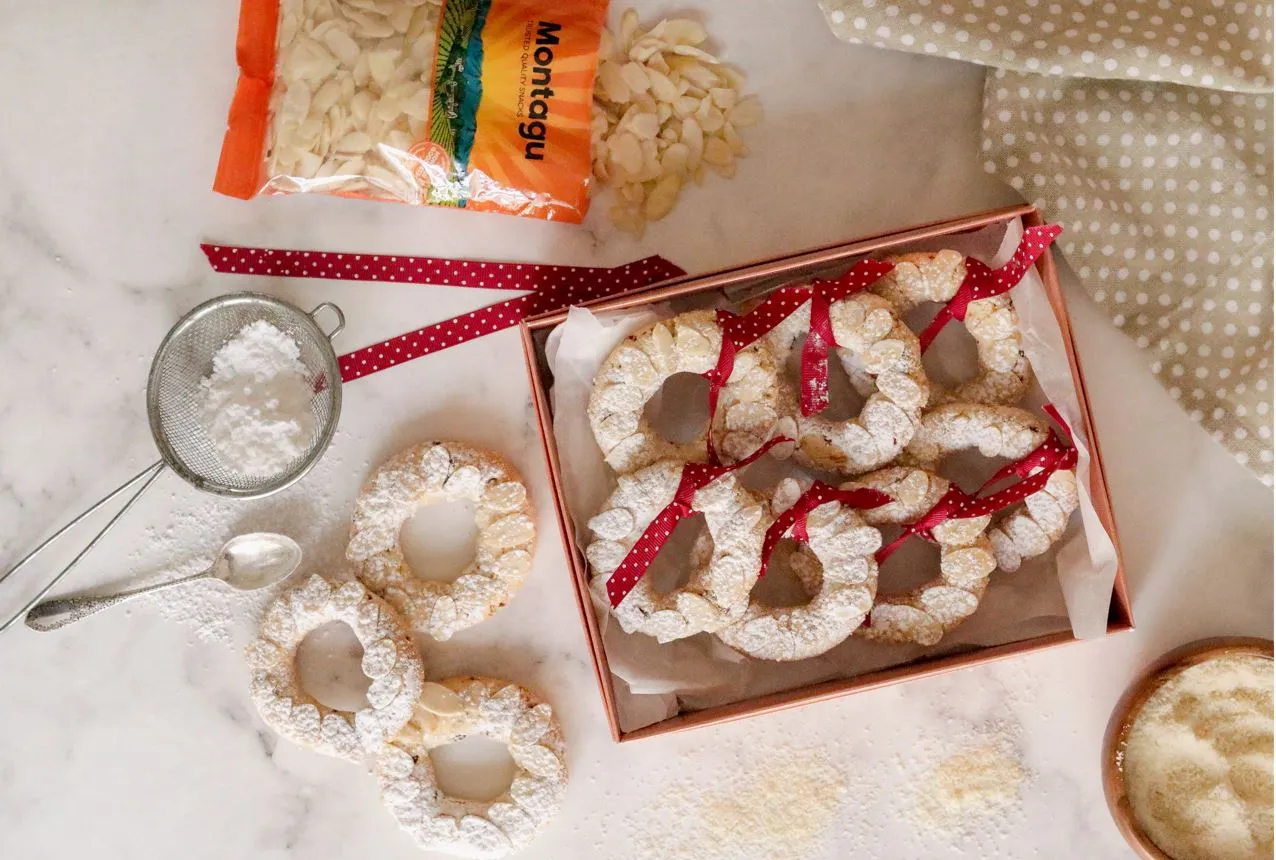 Makes 10 Cookies
Ingredients
1 large egg white

2.5ml (½ tsp) lemon juice

125g castor sugar

2.5ml (½ tsp) almond essence

7.5ml (1½ tsp) orange zest

175g

Montagu almond flour

50g

Montagu cranberries

, finely chopped

icing sugar, for dusting

ribbon, for decorating (optional)
Method
Preheat the oven to 150ºC and line a tray with baking paper.

Whisk the egg white until foamy.

Add the lemon juice, then gradually whisk in the castor sugar. Whip for a further 2 minutes.

Add the almond essence and orange zest.

Stir the almond flour and cranberries together.

Fold the almond flour into the egg by hand in two parts and mix into a soft dough. (If the dough is extremely sticky add an extra tablespoon of almond flour.)

Divide the dough into ten balls and roll each ball into a 15cm log.

Shape the log into a circle and press the ends together. (Tip: if the dough is sticky, wet your hands lightly, this will make rolling easier.)

Arrange the flaked almonds on top of the circles.

Bake the cookies for 30 minutes until lightly golden.

Leave to cool. Dust with icing sugar and tie a ribbon around the top of each cookie.
2. No-Bake Muesli Jar
The perfect gift for the more health conscious teacher, this homemade muesli is yummy over oats or yoghurt (or eaten straight from the jar for a delicious energy-boosting snack)!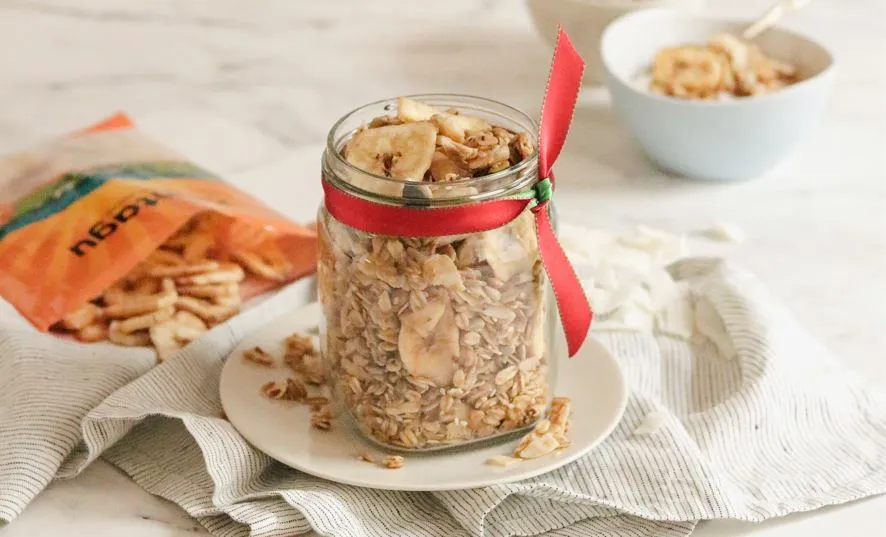 Makes 500g (approximately 3½ cups)
Ingredients
200g Montagu rolled oats

40g

Montagu seed mix

5ml (1 tsp) ground ginger

1.25ml (¼ tsp) mixed spice

50ml peanut butter

15ml (1 tbsp) coconut oil

22ml (1½ tbsp) honey

5ml (1 tsp) vanilla essence
Method
Combine the oats, flaked almonds, coconut flakes, seed mix, ginger and mixed spice in a bowl. Set aside.

Place the peanut butter, coconut oil, honey and vanilla essence in a small pot.

Stir over a low heat until melted and combined.

Pour the peanut butter mixture into the dry ingredients and mix well.

Pop the muesli into an airtight jar.
3. Rocky Road Squares
This is a sweet treat that chocolate lovers will go nuts for! And what teacher doesn't love chocolate? It's a no-brainer!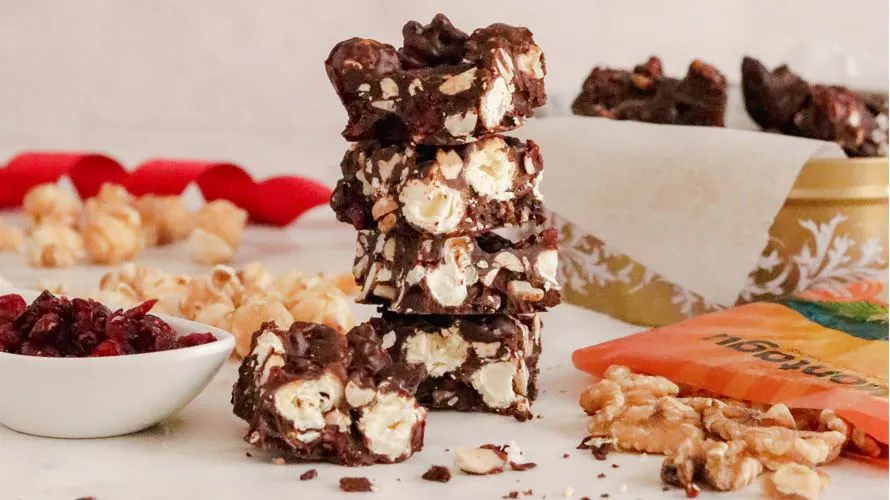 Makes 16 squares
Ingredients
200g dark chocolate, roughly chopped

100g milk chocolate, roughly chopped

125g butter

100g

Montagu cranberries
Method
Preheat the oven to 180ºC.

Line a 20cm square tin with plastic wrap.

Arrange the walnuts in a single layer on a small baking tray and roast for 10 minutes.

Allow to cool, then chop up roughly. Set aside.

Place the dark chocolate, milk chocolate and butter in a saucepan.

Stir over a low heat until the chocolate and butter have melted.

Remove the saucepan from the heat and add the cranberries, peanuts and walnuts. Mix well.

Add the caramel popcorn and stir until everything is well coated in chocolate.

Tip the mixture into the lined tin and press down firmly into an even layer.

Pop the tin in the fridge for 3 hours or until the rocky road has set.

Cut into squares.
We hope your child's teacher loves these delicious treats! Baking up a storm is a breeze when you have everything you need in your pantry. You'll find all those extra essentials at your nearest
Montagu Branded store
or via our
online store
.
Special thanks to Teresa Ulyate of
Cupcakes & Couscous
for these amazing recipes.
Low on time? No problem!
Sometimes handmade gifts aren't always a realistic option, and that's ok! How about treating your child's teacher to a delicious
Christmas Gift Box
filled with really good snacks, delivered straight to their door? Even better, why not head to your
nearest Montagu store
and have our helpful assistants wrap up a yummy hamper filled with treats chosen by your kids. Thoughtful, personalised and hand-wrapped - the perfect teacher's gift!