Rocky Road Squares


This is a sweet treat that chocolate lovers will go nuts for! And what teacher doesn't love chocolate? It's a no-brainer!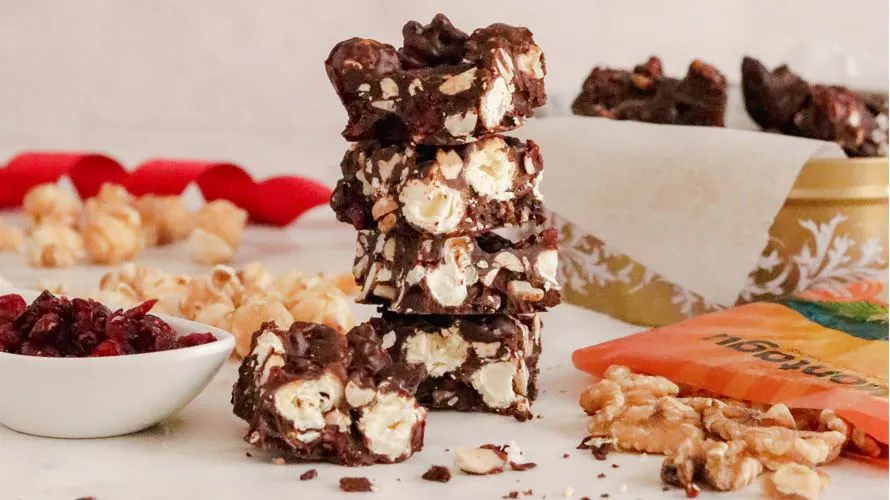 Makes 16 squares
Ingredients
200g dark chocolate, roughly chopped

100g milk chocolate, roughly chopped

125g butter

100g

Montagu cranberries
Method
Preheat the oven to 180ºC.

Line a 20cm square tin with plastic wrap.

Arrange the walnuts in a single layer on a small baking tray and roast for 10 minutes.

Allow to cool, then chop up roughly. Set aside.

Place the dark chocolate, milk chocolate and butter in a saucepan.

Stir over a low heat until the chocolate and butter have melted.

Remove the saucepan from the heat and add the cranberries, peanuts and walnuts. Mix well.

Add the caramel popcorn and stir until everything is well coated in chocolate.

Tip the mixture into the lined tin and press down firmly into an even layer.

Pop the tin in the fridge for 3 hours or until the rocky road has set.

Cut into squares.
We hope your child's teacher loves these delicious treats! Baking up a storm is a breeze when you have everything you need in your pantry. You'll find all those extra essentials at your nearest
Montagu Branded store
or via our
online store
.
Special thanks to Teresa Ulyate of
Cupcakes & Couscous
for these amazing recipes.