FESTIVE FAMILY FUN: 10 Pantry Essentials For Christmas Baking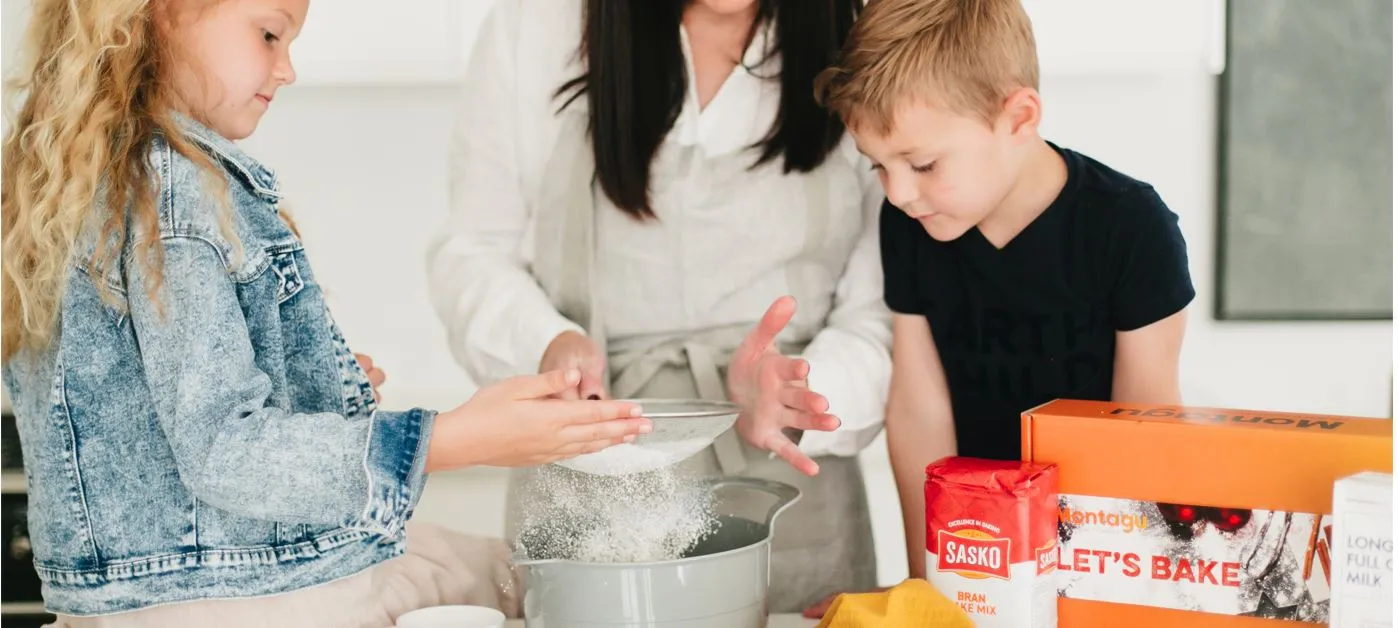 Ah, Christmas… It really is the most wonderful time of year.
The house is filled with the scent of cinnamon and spice, as boozy fruitcake bakes in the oven. Icing sugar sits in soft, snowy peaks, coating every imaginable surface with white… the aftermath of another successful baking spree. Hot, fresh Christmas cookies cool on wire racks, waiting to be coated in colourful icing and sprinkles.
Michael Bublé croons in the background, as carols and Christmas songs provide the perfect soundtrack to the holidays.
The festive season is just around the corner, and soon we'll have some long overdue downtime to spend with our families and friends. And what better way to spend that time than with epic baking sessions creating festive treats?

The benefits of baking together as a family
Baking is always fun to do on your own as a way to decompress, but there are so many benefits to whipping up a batch of something with someone you love. Much like a recipe brings many ingredients together to create something amazing, the kitchen has a special way of bringing people together to connect.
Whether the finished product comes out fab or a complete flop, fun and connection will always be the real treat. You may find that it isn't really even about the baking - it's about the blessing of being together.
Here are just some of the great benefits of baking together:
Bonding:

baking together is a great way to strengthen your connection

Togetherness:

being together creates community and breaks feelings of isolation

Laughter:

a relaxed baking sesh makes plenty of room for fun, giggles and silliness - happy hormones abound!

Reconnecting:

catching up after a busy or difficult week is easy when you're working on a fun baking project

Deep conversations:

spending time in the kitchen can create space for meaningful chats about life

Hitting pause:

baking together somehow slows down the frantic pace of life, allowing you to calm down and catch your breath

Memory-making:

these are simple, special moments in time that you'll look back on fondly and talk about years from now

Photo opps:

happy snaps of your family covered in flour always go down well


Our top 10 pantry must-haves for your Christmas baking spree
Stocking your pantry with trusted, quality ingredients will ensure flop-proof bakes, each and every time. Here is a handy list of everything you could possibly need:
1. Seasonal spices
If it doesn't smell like Christmas, then is it really Christmas? Your spice rack is incomplete without these traditional spices used in a wide array of Christmas cakes, bakes and puddings.
Ground cinnamon

Cinnamon sticks

Nutmeg

Cloves

Ground ginger

Allspice

Star anise

Cardamom
2. Chocolate
Chocolate is pretty important to have on hand all year round, but it's essential over the festive season. And we're not just referring to a boring old chocolate bar either. We're talking every form and variation that you can find to take your Christmas baking to the next level.
Pure cocoa

Dark, milk and white chocolate slabs

Chocolate chips

Chocolate discs

Peppermint Crisp bars (for that must-have Peppermint Crisp Tart)

Flake bars (to top your boozy trifle)
3. Dried fruit mix
Next to spices, the rich, warm, fruity flavours of dried fruits and peels add a touch of magic to your festive bakes. Everyone has their favourite Christmas pudding, cake or sweet treat from childhood. Keep those special traditions alive with these essential pantry items.
Dates

Raisins

Sultanas

Currants

Dried orange peel

Mixed fruit peel

Cranberries

Glazed cherries

Ginger slices
Fresh fruit like oranges is also great to have on hand, especially if you want to make mulled wine, sangria or even your own candied oranges.
4. Assorted nuts
Raw and roasted nuts add crunch and festive flavour to so many Christmas treats, making them a pantry essential for Christmas cookies, baked fruit slices, hot puddings and more. Here are some of the best nuts for Christmas baking:
Hazelnuts

Pecans

Pistachios

Walnuts

Almonds (whole, flaked)

Macadamias

Cashews
5. Assorted seeds
While seeds won't feature in most Christmas dishes, they are excellent to have on hand for fruit and nut bars, or even your Christmas dinner sides like butternut, roast veggies or a fresh salad. Here are some of the best seeds to have stock of at home:
Chia seeds

Flaxseed (linseed)

Poppy seeds

Sunflower seeds

Pumpkin seeds
Chia seeds also make an excellent egg replacement if someone in the family has an allergy or if they are vegan. Simply soak Chia seeds in water overnight and they will swell up into a gel - ideal for egg-free baking!
6. The dry stuff
Not much baking can happen without these pantry staples. Keep them stored in airtight containers once opened to make sure they're fresh and ready for spontaneous baking sessions.
Rolled oats

Desiccated coconut

Coconut flakes

Plain flour

Self-raising flour

Almond flour

White sugar

Brown sugar

Dark brown sugar

Demerara sugar

Muscovado sugar

Icing sugar

Caster sugar

Baking powder

Bicarb

Yeast

Salt
7. The wet stuff
There's nothing better than an on-the-fly decision to bake something and have all the ingredients on hand. For fuss-free baking (and to avoid those last-minute trips to the shop) keep your fridge and pantry stocked with these important items:
Butter

Cream

Eggs

Milk

Vanilla extract

Vanilla essence

Mint essence

Caramel essence

Food colouring / gel

Marzipan

Alcohol: rum, brandy, sherry, bourbon
8. The canned stuff
A good supply of canned essentials will make festive baking a breeze. Canned items can make your life much easier, especially if you're low on time. Here are just some of the useful options you can add to your shopping list:
Condensed milk

Ideal milk

Caramel Treat

Canned fruit like pie apples and peaches

Marmalade

Jams
9. Biscuits
A pantry staple for pie crusts, pudding layers, and sweet crumbs, biscuits are another pantry essential that you'll always need more of. Stock up on the basics with the help of this handy list:
Tennis biscuits

Marie biscuits

Ginger biscuits

Romany Creams

Lemon Creams

Shortbread biscuits
10. The finishing touches
To add a festive finish to your batches of bakes, keep a selection of fun decorations on hand and get creative. The brighter and more sparkly, the better!
Assorted sprinkles in red, green, gold and silver

Glazed cherries

Royal icing

Edible fondant shapes: stars, snowflakes, Santas, snowmen, bells, holly
The backdrop of Christmas somehow makes baking together extra special. So take in the setting, the sounds, the smells, and the smiles of the ones you love - it's a mental snapshot that you will treasure forever. Make the time - you won't regret it.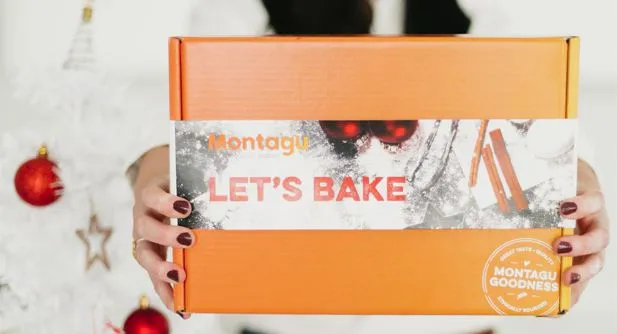 Shop your pantry essentials with Montagu's Christmas Bake Box
We love Christmas baking so much, we created a very special
Christmas Bake Box
filled with carefully selected dried fruit and nuts, ideal for all your Christmas bakes! Everything you need, in perfect portions, and conveniently housed in one big, bright orange box to pop into your pantry. Plus, we've included 5 delicious festive recipes for you to try with your family at home. Give your home the gift of family festive baking and
order your Christmas Bake Box today
! (available exclusively on our online store)