MAKE DRIED FRUIT SEXY AGAIN!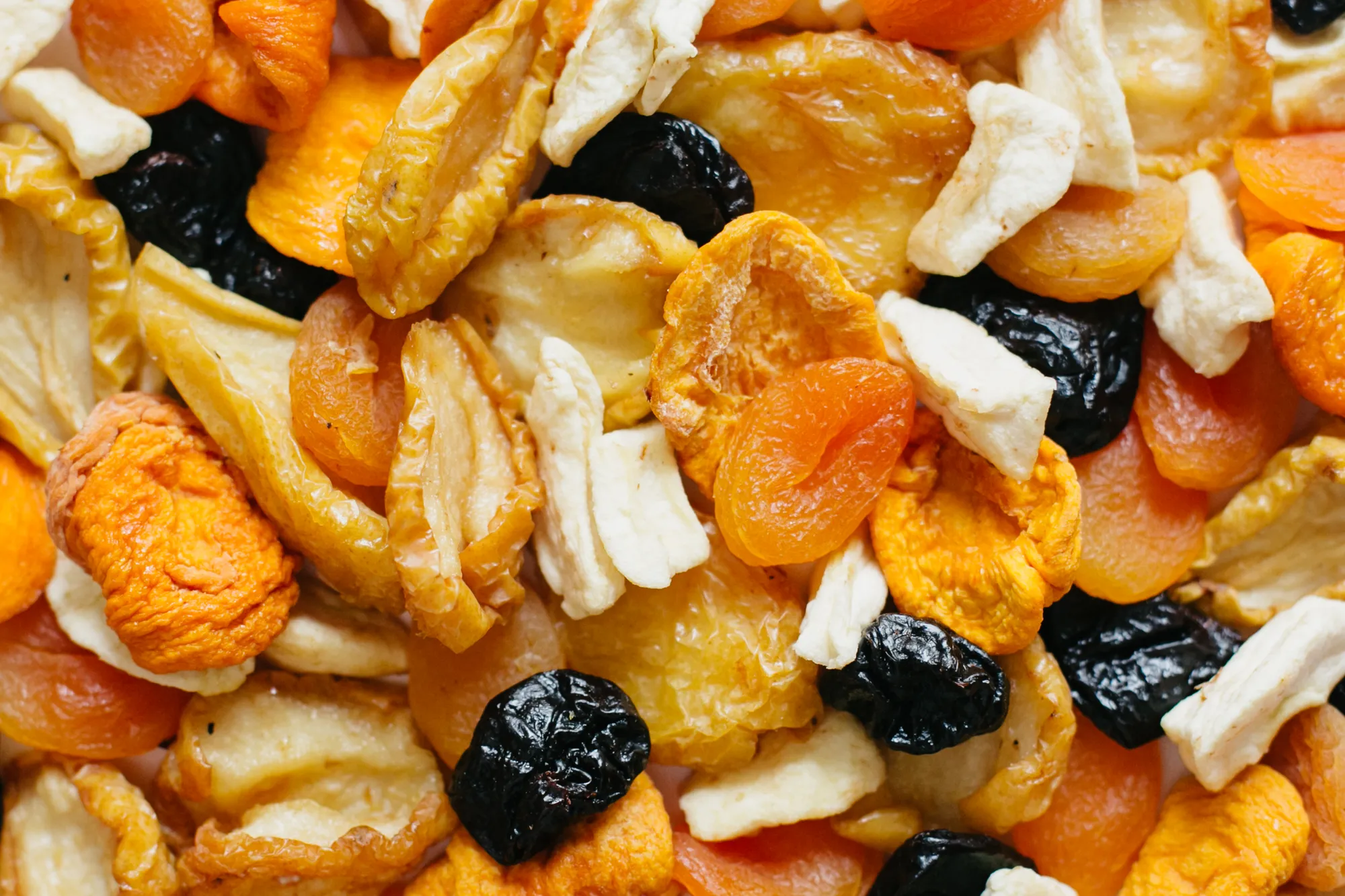 Let's be honest: a bag of mixed dried fruit has a bit of a bland reputation. It might have something to do with those plain ol' prunes that no one seems to like.

You wouldn't say it's the sexiest product on our shelves, now would you? It's not like those gorgeous sunshine-dipped mango strips or those plump, exotic Goji berries that people go nuts over.

Nope. It's just a simple blend of apricots, apples, peaches, pears - and those sweet little prunes. It's the Montagu 'old faithful'. Always been there, always will be.

But what if that humble little bag was so much more than it seemed? What if you knew that dried fruit contains substantially more fibre, minerals and vitamins compared to fresh fruit?

Mixed dried fruit really should have a permanent place in your pantry - and here's why!
Fun ways to enjoy mixed dried fruit
A bag of mixed dried fruit may be plain, but it holds plenty of delicious possibilities... you just need some inspiration!
Winter is the perfect season to make mixed dried fruit sexy again! Check out these delicious serving suggestions shared by Teresa Ulyate from Cupcakes & Couscous:
Stew mixed dried fruit in boiling water for 10 minutes until soft, drain and serve with warm vanilla custard for a delicious winter dessert
Sprinkle chopped dried fruit over your morning granola for a fruity breakfast
Stir chopped mixed dried fruit into your favourite muffin mixture (Top tip: mix the fruit into the dry ingredients before adding the wet to stop the pieces from sinking to the bottom!)
Combine chopped mixed dried fruit, salted peanuts and melted chocolate and drop spoonfuls onto baking paper to make scrumptious fruity chocolate clusters!
Stir mixed dried fruit into couscous salad with some fresh herbs and lemon juice as a fabulous side dish
Health benefits of mixed dried fruit
A bag of mixed dried fruit is actually loaded with concentrated
health benefits
. In fact, research has shown that in terms of weight, dried fruit contains up to 3.5 times the amount of fibre, minerals and vitamins compared to fresh fruit!
Here are some of the noted health benefits of dried fruit according to nutritionists:
1. Energy
Need an energy boost that doesn't send your blood sugar on a rollercoaster ride? Dried fruits are concentrated sources of energy, as most of the water from the fresh fruit is removed, leaving behind a much smaller, energy-dense and nutrient-rich snack.

Dried fruit is generally high in natural sugars and calories. So in small portions, dried fruit can be a great source of energy when you're on the go or between meals.
2. Fibre
Feeling a little sluggish? One cup of mixed dried fruit contains about 8 grams of
fibre
, which is about one third of what the average adult needs each day.
Fibre not only does the heavy lifting in the
digestive system
, but it also plays a key role in weight management and keeping gut bacteria levels nice and balanced. It also helps to reduce bad cholesterol and maintain healthy blood sugar levels.
3. Micronutrients
Just because fruits are dried doesn't mean their nutrients disappear! Dried fruit is loaded with essential vitamins and minerals, and can contribute to a number of the recommended daily amounts you need.
Some key micronutrients found in mixed dried fruits include:
Vitamin A - for a healthy immune system, healthy bones, growth and reproduction
Vitamin C - for growth, repair and maintenance of all tissues in the body
Potassium - for healthy cell, muscle and nerve function, protein synthesis and breaking down carbohydrates
Calcium - for healthy bones, and healthy cell, muscle and nerve function
Iron - for growth, energy and development, healthy blood and transport of oxygen around the body
4. Antioxidants
Dried fruits are a source of free radical busting antioxidants and other plant compounds, especially polyphenols. Polyphenols provide health benefits like improved digestive health, better blood flow, reduced oxidative damage and reduced risk for a number of diseases like cancer and heart disease.

Now that's some snack-tastic food for thought! Mixed dried fruit is an essential addition to any pantry. Check out our mixed dried fruit range and have a bag delivered straight to your door, or head to a Montagu Branded Store near you!