The Lunchbox 'Big 6': Ideas for balanced, nutritious school lunches
No time to read? Listen to this blog on the below media player or your favourite podcast app. Subscribe to The Goodness Blogcast to help you make better choices for a healthier, happer life, filled with MONTAGU GOODNESS!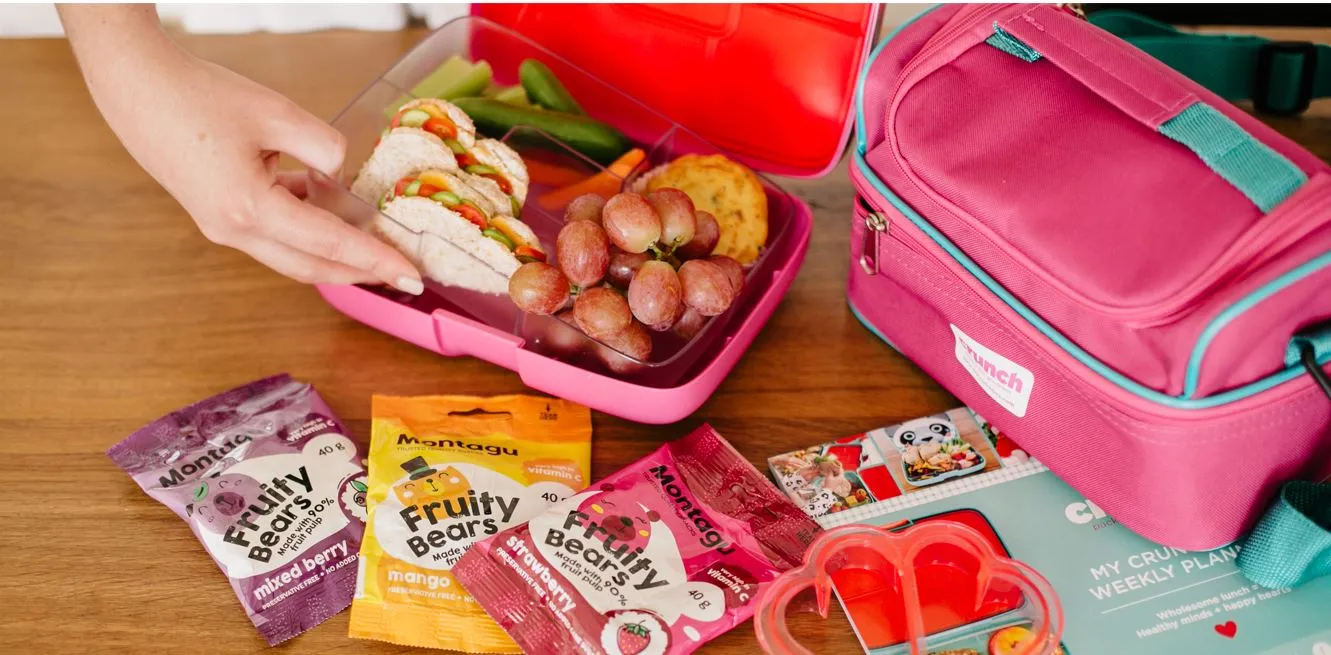 A new school year is about to begin! So much to do, so much to prepare, so much to buy, and, as usual... (sigh) so little time.
Lunchboxes are often the last thing on your mind when you're about to send your kiddos back into the busy world of academics, sport, extracurriculars and homework. So you probably find yourself throwing together incomplete lunches, like
only starch and not enough veggies, or perhaps only fruit and veggies with no protein.
A nutritious, balanced lunchbox should ideally include six food groups (which sounds like a lot, but it's actually easier than you think). We want to help you rock lunchbox prep this year with some super helpful info, tools and ideas.
Sending your kids to school with healthy, balanced lunchboxes
is not always easy. But it can be done - and fun - thanks to a little inspiration (from us) and a little planning (from you!).
So, without further ado, allow us to introduce...

The Lunchbox 'Big 6'
It's important that as many food groups feature in your kids' daily lunches as possible, because they each offer unique nutritional profiles. Some foods are full of fibre, others are packed with protein, while others are rich in nutrients and calories.
Children's bodies and brains need plenty of energy to grow, thrive and keep up with their busy lifestyles. A
nutritious diet
will help them concentrate, get good sleep, have lasting energy during the day, and even support their
mental health
.
Remember, healthy lunchboxes aren't just for kids - they're for grown-ups too! The 'big kids' in your family will also benefit from balanced, nutritious lunches when they're at varsity or at work.
In each food group below we include some of the
best snack options for growing kids
, with fun ways to make them interesting and appealing (ideal for picky eaters). We also include plenty of budget-friendly ideas too. Fun, healthy lunchboxes don't have to be expensive!

1. Fruit
Enjoying
fruit
as a lunchbox snack is a great way for your kids to get a boost of fibre, energy, antioxidants, vitamins and other key nutrients during the day. They also make a great substitute for sugary snacks, and they won't have a negative impact on your child's blood sugar levels the way foods with added sugar would. Fructose, the natural sugar found in fruit, causes a low increase in blood sugar levels, unlike glucose.
Here are some of the easiest fruits to include in your child's lunchbox:
Berries (strawberries, raspberries, blueberries, etc.)

Grapes*

Melon balls*

Apple slices

Pear slices

Bananas

Naartjies
* Cut grapes / melon balls in half to reduce risk of choking
Make fruit fun!
Mini fresh fruit salads

Fruit smoothies

Fresh fruit skewers

Dried fruit snacks (mango, dried fruit rolls, Fruity Bears, Fruit Flakes, Fruit Cubes)

Freshly squeezed juices

Create fruity

animal designs

Try

fruit sushi

!

Fruit fondue (pop a small tub of melted dark chocolate into their lunchboxes)

2. Veggies
Like fruit, vegetables are a rich source of vitamins, minerals, fibre, antioxidants and key nutrients. Though for many kids, veggies aren't always their favourite part of the meal. Whether your child is a veggie fan or not, there are some ways you can make veggies more interesting and appealing… and sometimes, you can even sneak them in undetected.
Here are some of the easiest veggies to include in your child's lunchbox:
Carrot sticks

Cucumber slices

Baby corn

Bell pepper strips

Cocktail tomatoes
* Cut cocktail tomatoes in half to reduce risk of choking
Make veggies fun!
Slice raw and serve with healthy dips (hummus, Tzatziki, guacamole)
Chicken and veggie stir-fry with noodles (extra fun with chopsticks!)
Homemade veggie spring rolls and dip
Roast veggies in mini wholewheat chicken or vegetarian wraps
Veggie burgers on rolls with salads and sauces
Homemade meatballs with hidden veggies (carrots, celery)
Savoury muffins (spinach and feta, sundried tomato and mozzarella, pumpkin)
Mini quiches (spinach, feta and bacon; ham, cheese and corn; bacon and mushroom)
Mini veggie pizza (tomato base, mushrooms, peppers, cheese)
Veggie fries (carrots, sweet potato, zucchini)
Soft-shell tacos (with salsa, beans, guac, roast veg)

3. Fibre
Growing bodies need lots of fibre, not just to keep their digestive systems working as they should, but also for sustained energy during the day. Whole grains are going to be your best options for fibre, as they will keep kids full for longer, and will therefore release energy slowly into the bloodstream, helping to maintain normal blood sugar levels. Very important for those long stretches between lunch breaks!
Here are some of the best sources of fibre for your child's lunchbox:
Seed bread

Seed crackers

Whole grain bread

Whole grain crackers

Whole grain pasta

Wholewheat wraps

Brown rice

Quinoa

Steel-cut oats

Beans and lentils

Popcorn
Make fibre fun!
Mini muffins

made with wholewheat flour (bran and raisin, honey and oats, peanut butter and dark chocolate chips, apple and cinnamon, banana and walnuts)
Oatmeal and raisin biscuits
Quesadillas made with whole wheat wraps, and filled with cheese, tomato, onion, chicken and herbs)
Mini wholewheat pancakes (dark chocolate chip, blueberry, cinnamon)
Brown pasta salads with yummy fillings like cheese, chicken, bell peppers, cucumber, cocktail tomatoes, red onion, baby spinach, avo

4. Protein
Protein provides many of the building blocks for growing bodies. Kids need lots of protein for energy, muscle and tissue growth and repair, cognition, concentration, immune support and other important processes. Like fibre, protein helps them feel fuller for longer and boosts their metabolism.
Here are some of the best sources of protein for your child's lunchbox:
(the meat-free / dairy-free options are ideal for vegan diets)
Peanut butter

Tuna

Hummus

Beans

Cheese

Nuts

Seeds (sunflower, chia, flaxseed, pumpkin)

Veggie burgers

Roast or grilled chicken or turkey

Hard-boiled eggs

Milk

Yoghurt

Lentils
Make protein fun!
Lean meatballs or veggie balls with hummus
Mini pita pockets filled with grilled chicken, hummus and veggies
Trail mix with dried fruit, nuts and seeds
Peanut butter and apple slices
Chicken mayo and salad on wholewheat bread
Grilled chicken strips and dips
Egg mayo on wholewheat bread

5. Dairy
Most kids love dairy products, so it shouldn't be too tricky to get yours to eat enough dairy during the day. Dairy is an excellent source of calcium, protein, and vitamin D and other essential nutrients to support strong, healthy bones.
Here are some of the best sources of dairy for your child's lunchbox:
Cheese

Plain milk

Plain Greek yoghurt
Make dairy fun!
Plain yoghurt with honey
Plain yoghurt with dark chocolate chips
Plain yoghurt with peaches and pears, or mixed berries
Yoghurt dipping sauces like Tzatziki for meatballs or veggie strips
Chocolate milk!

Milk or yoghurt-based smoothies (add fruit, nut butters, spinach, seeds, honey)

Cheese and fruit skewers

6. Fat
Healthy fats
are essential for proper brain development and a healthy nervous system.
Good fats
(together with protein) help kids feel full for longer during the day, and provide them with a source of energy too. They are also known to help the absorption of other important vitamins, like vitamins A, D, E and K.
Here are some of the best sources of good fats to include in your child's lunchbox:
Homemade guacamole

Walnuts, almonds, hazelnuts, and pecans

Nut butters

Pumpkin seeds

Sesame seeds

Flax seeds

Fish

Butter

Dark chocolate
Make good fats fun!
Mashed avo as a dip or mayo substitute on sandwiches or wraps

Tuna pasta salad

Tuna salad sandwiches

Nut butters, apples and raisins on crackers

Trail mix

Dark chocolate chips in oatmeal cookies

Seeds in biscuit batter

Top Tips!
Here are some cool ways make lunchboxes even more fun for your kids:
Cookie cutters to cut fruit, veg and sandwiches into fun shapes

Small cooler bags to keep smoothies, salads, cold meats, etc. nice and cool

Bento boxes:

lunchboxes with lots of compartments can make snack time fun and full of variety. They're also great for portion control or keeping foods separate if your kids prefer that foods don't touch.

Lunchbox themes: food themes can make lunchtime extra interesting. Let your kids 'eat a rainbow' with fruit and veggies, or go for Mexican, Chinese, Italian, or Greek food themes.

Free Downloadable Resources
CLICK ON THE IMAGES BELOW to do
wnload our Big (Hero) 6 planning sheet and our Big 6 inventory list for a handy planner that will set you up for snack box success!
Happy snack packing!