Christmas Wreath Cookies
These crisp, chewy cookies are gluten-free and filled with the flavours of Christmas. Tie them with festive ribbon for a special touch, and arrange them in a pretty Christmas box or glass jar.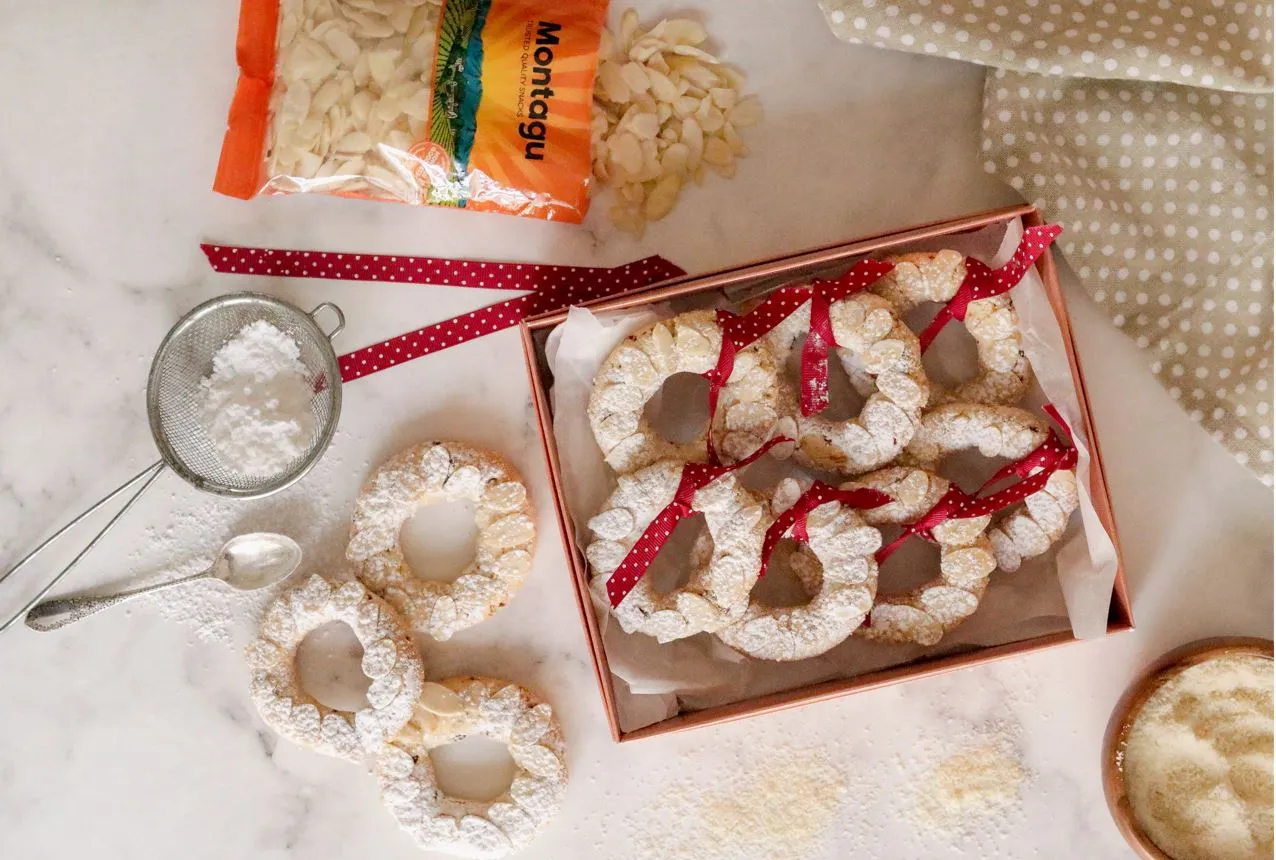 Makes 10 Cookies
Ingredients
1 large egg white

2.5ml (½ tsp) lemon juice

125g castor sugar

2.5ml (½ tsp) almond essence

7.5ml (1½ tsp) orange zest

175g

Montagu almond flour

50g

Montagu cranberries

, finely chopped

icing sugar, for dusting

ribbon, for decorating (optional)
Method
Preheat the oven to 150ºC and line a tray with baking paper.

Whisk the egg white until foamy.

Add the lemon juice, then gradually whisk in the castor sugar. Whip for a further 2 minutes.

Add the almond essence and orange zest.

Stir the almond flour and cranberries together.

Fold the almond flour into the egg by hand in two parts and mix into a soft dough. (If the dough is extremely sticky add an extra tablespoon of almond flour.)

Divide the dough into ten balls and roll each ball into a 15cm log.

Shape the log into a circle and press the ends together. (Tip: if the dough is sticky, wet your hands lightly, this will make rolling easier.)

Arrange the flaked almonds on top of the circles.

Bake the cookies for 30 minutes until lightly golden.

Leave to cool. Dust with icing sugar and tie a ribbon around the top of each cookie.
Baking up a storm is a breeze when you have everything you need in your pantry. You'll find all those extra essentials at your nearest
Montagu Branded store
or via our
online store
.
Special thanks to Teresa Ulyate of
Cupcakes & Couscous
for these amazing recipes.